In May 2016, Kosovo sport completed its transition into a new era. The Kosovo football federation joined UEFA on May 3, before being admitted into FIFA ten days later. After a series of acceptances into high profile international sporting organizations in 2014 and 2015 — including the International Olympic Committee (IOC) and the International Basketball Federation (FIBA) — admission into UEFA and FIFA represented the final piece in the puzzle. For a long time, Kosovo wanted to play, 2016 was the year that everyone finally could.
The highlight of the year was undoubtedly Kosovo's sensational debut at this year's Olympics. Eight Kosovar athletes travelled to Rio to represent Kosovo as an independent state for the first time. Six were invited by the IOC, as part of the committee's efforts to ensure universality at the games by offering extra places to nations under-represented in previous years. Though not troubling the medal places, Kosovo's additional athletes all performed well. Rita Zeqiri and Lum Zhaveli both set national records in the pool, as did Vijona Kryeziu on the track.
However, Kosovo's main hopes for medals were always in the women's judo competition, which featured Kosovo's two athletes that qualified for the games automatically, Nora Gjakova in the under 57 kg category and Majlinda Kelmendi in the under 52 kg category.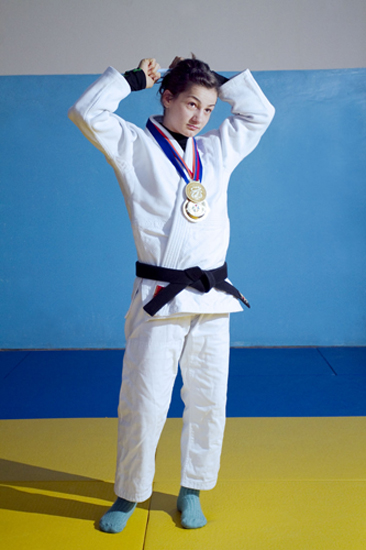 Whilst Gjakova bowed out in the second round, Kelmendi surged to the gold, defeating opponents from Switzerland, Mauritius, Japan and Italy on her way to victory on a memorable Sunday in early August. It was a defining day in an incredible career for Kelmendi, which has already seen her win world championships and being named the best judoka in all categories by the International Judo Federation in 2014.
Tough transition
For others, the transition into Kosovo's new era of sport wasn't always easy. After years left in the sporting wilderness, Kosovo's infrastructure and institutions weren't always well prepared for international competition. Having dreamt of national sports teams, and European competition for Kosovo's domestic clubs for years, fans are now having to taper their expectations as reality bites.
The first reality check came early in the year. Kosovo's men's handball team lost four consecutive games in 11 days in January to crash out of qualification for the 2017 World Handball Championship, finishing bottom of the qualifying group.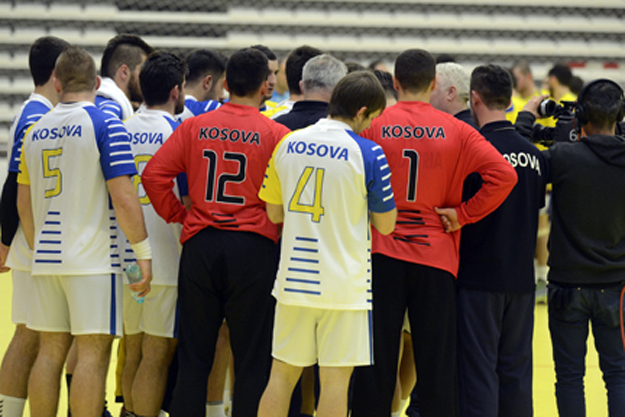 The men's national basketball and football teams fared little better. Qualification for EuroBasket 2017 took place in three weeks spread across late August and early September. Kosovo failed to register a single victory, losing all six games and again finishing bottom of their qualification group.
Whilst qualifying for the 2018 Football World Cup in Russia is far from over, a place for Kosovo at the tournament also seems unlikely; with one point from four games, Kosovo again occupies last place in the group.
Kosovo's struggles are in part down to being the new kid on the block. With no previous attempts at qualification, it is routinely placed at the bottom of the world rankings and in the bottom seeding pot when qualifier groups are drawn. In qualification for EuroBasket 2017, Kosovo was drawn against three of Europe's top 20 ranked sides in Slovenia, Ukraine and Bulgaria, whilst in football, it must compete with Croatia, Iceland, Turkey and Ukraine, four teams placed inside the top 30 of FIFA's world rankings.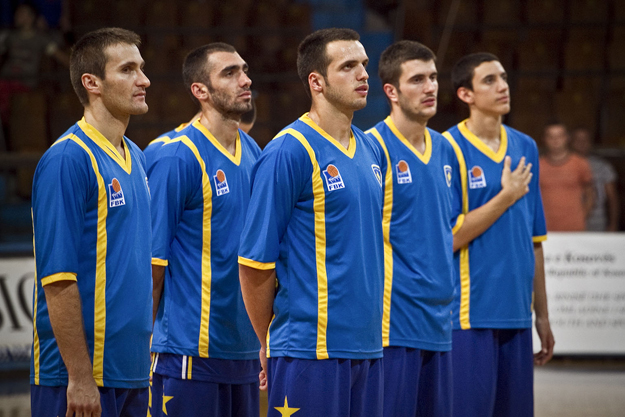 Climbing these rankings and escaping the bottom seeding pot must be the first aim for Kosovo's national teams. After winning its first friendly and drawing its first qualifier as a FIFA recognized side, the men's football team has already risen 25 places in the rankings. At this stage, each victory helps it to slowly climb the ladder.
Evidence of this is already being seen at youth level in basketball and handball. Having earned promotion from Division C in 2015, Kosovo's Under-16 basketball team finished in a very respectable 14th place in FIBA's Under-16 European Championship Division B this year, above far larger and wealthier nations like Romania, Norway and Austria. The Under-18 side will also play in Division B of the Under-18 European Championships in 2017, after winning a third place play off against hosts San Marino at this year's Division C competition in July.
Handball also seems to have a brighter future. Kosovo's Under-18 team beat three sides in a second-tier European Championship competition to finish 7th overall. Meanwhile, the men's team's qualification campaign for the World Championships in 2020 has already been their most successful effort yet after a draw against Turkey. Two matches against Estonia in early Jan 2017 give Kosovo a good chance of their first competitive victory.
In the team
For Kosovo's newly recognized football federation, it has also been a bumpy ride off the pitch. Excitement over UEFA recognition was dampened a month later when both KF Feronikeli and KF Prishtina were deemed by UEFA to 'not fully meet licensing criteria' and excluded from 2016/17's European competitions.
The news came two days before what was perhaps the defining football match of the past era of Kosovo sport, Albania v Switzerland in Lens at Euro 2016. Of the 22 players that started the match, 10 had Kosovar roots. Kosovo was just one player short of a full 11 on the pitch at a European Championship, all playing in other nations' shirts.
All ten players' involvement in that game subsequently excluded them from participation with the new Kosovo national team, though many, including most famously Granit Xhaka, were unaware of this at the time. The uncertainty over player availability and FIFA's seemingly off-the-cuff writing of the regulations provided the FFK with another headache in what has undoubtedly been their busiest year yet.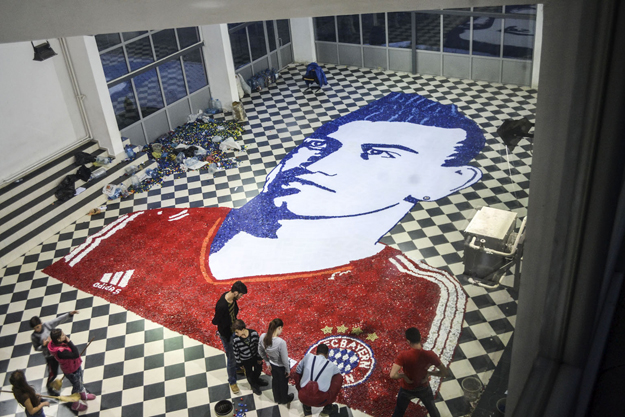 While Kosovo's men's football clubs were excluded from European competition this year, KF Hajvalia travelled to Cyprus in August to take part in the qualifying stages of the 2016/17 UEFA Women's Champions League. After gaining draws against Greece's PAOK and Iceland's KI Klaksvik, Hajvalia eventually exited the competition after succumbing to hosts Apollon Limassol 1-0 in a match they needed to win.
Kosovo's basketball teams also represented the country at both regional and continental level this year. In April, Sigal Prishtina won the Balkan International Basketball League for a second season running, beating Mornar Bar from Montenegro in the final. In the autumn, Sigal and KB Peja also competed in the group stages of the 2016-17 FIBA Europe Cup. Both were eliminated but managed to win one match each, taking Kosovo clubs' number of victories in the competition to four.
2016 also saw the most exciting domestic basketball final in recent memory between Peja, who went into the final having lost only one match all season, and Sigal Prishtina, the champions in the previous two seasons. The final required all five matches in the series to be played, Prishtina eventually winning the last match in Peja 65-70 to take the series 2-3. It was a breathtaking series in which every match was tight, and often decided in the dying seconds.
Fighting back
While team sports were in transition and achievements were incremental, individual sports have offered Kosovo moments of previously unimaginable glory and the promise of more in the future.
In boxing, Armend Xhoxhaj cemented his place as the country's best male boxer, winning a number of national competitions and also taking the grand prize at the international Adem Jashari tournament in Prishtina in November, beating Belgian fighter Victor Pelehtage in the final. Xhoxhaj has climbed to number 53 in the European Boxing Confederation's rankings, and will hope to make an impact at the amateur World Boxing Championships in Hamburg next year.
Meanwhile, Kosovo's rising star of boxing took another impressive step in her blossoming career. Donjeta Sadiku has graduated from junior boxing to youth boxing and moved down a weight division, but neither have impacted on her success.
Sadiku added to last year's silver medal at the Women's Junior Boxing Championships with gold in September's European Women's Youth Boxing Championships in Ordu in Turkey. Still a teenager, Sadiku is developing into an excellent fighter, and a prospect for even greater success in the future, including a potential Olympic medal at Tokyo 2020.
Kosovo's golden girl Majlinda Kelmendi will also be relishing the prospect of the next Olympics in Japan, after her historic few days in Brazil this summer. Friday, Aug. 5 saw Kelmendi become the first person to ever carry the Kosovo flag in an Olympic opening ceremony. Three days later she was the country's first gold medallist.
Shortly after her victory, her words, delivered through tears, captured a nation's optimism about the potential power of sport in Kosovo. "People, especially kids in Kosovo, look at me as a hero," she told reporters. "I've just proved to them that even after the war, even that we have survived the war, if they want something they can have it. If they want to be Olympic champions they can be — even if we come from a small country, a poor country."
2016 has shown that Kosovo's citizens must be patient whilst waiting for sport to develop and flourish in the country, but Kelmendi is living proof that there should be no ceiling for its future ambitions.K
Images: Majlinda Hoxha & Atdhe Mulla / K2.o.