On November 2, 2022, a video from a private care home for the elderly in Peja appeared online. The video showed a young nurse beating an elderly woman, slapping her and pushing her against the wall. The video showed that as the nurse taunted, slapped and humiliated the old woman she was supposed to be caring for, her colleagues were laughing. The old woman cried and begged them to stop.
The video of the mistreatment spread widely on social media and became the news of the week in Kosovo and beyond.
Some media outlets in Serbia picked up the story and falsely reported that the elderly Albanian woman was Serbian and that the attacker was Albanian, transforming an act of elder abuse into an inter-ethnic incident. 
This is just one of many instances when the Serbian media has invented an ethnic angle in news stories, either to incite tensions or as a result of republishing unverified information. Considering the often tense relations between Kosovo and Serbia, this happens frequently.
A central narrative that this type of disinformation tries to create is that Kosovo's Serbs live in unbearable conditions due to Albanians and Kosovar state authorities.
Serbia is not alone in this. The pro-government media of Russia and China, alongside Serbia, are the main disseminators of disinformation in Kosovo and about Kosovo. Serbian-speaking audiences are the main targets of disinformation from Serbian and Russian media outlets, while Chinese media outlets more often focus on Albanian-speaking audiences.
These countries' disinformation campaigns in Kosovo are part of a broader global information disorder. Disinformation — increasingly defined as "a weapon of intervention" by "malign external forces" — is increasingly being used in the digital information space to undermine democracies around the world or to cause political or social disorder.
Although the purposes of Serbia's and Russia's disinformation campaigns in Kosovo differ from China's, all three demonstrate how easily these campaigns have broken into the Kosovo media sphere.
Multi-dimensional disinformation from Serbia
Since 2011, a dialogue mediated by the European Union has been taking place between Kosovo and Serbia with the aim of normalizing relations. Although more than 30 agreements have emerged from this dialogue, they largely remain unimplemented and relations between Kosovo and Serbia remain tense.
Incendiary reports with baseless assertions, especially about Kosovo Serbs, appear frequently in the Serbian media. The source of this misinformation is often Serbian government officials.
This type of misinformation escalates when there are developments in the north of Kosovo. Political disagreements between Kosovo and Serbia — caused by Kosovo's efforts to assert its statehood and Serbia's efforts to maintain its power in four Serb-majority municipalities in northern Kosovo — have often taken the form of tensions.
In June 2022, the government of Kosovo issued a decision to gradually ban Serbian license plates issued for cities in Kosovo. Protesters barricaded the two roads that connect the north of Kosovo with Serbia. In November, Serbs resigned en masse from the public institutions of Kosovo, including police officers, prosecutors, judges, mayors and deputies of Srpska Lista in the Kosovar Assembly. Barricades then went up and remained for weeks and Kosovar police officers on the scene reported being shot at by unknown individuals on multiple occasions.
Around this time the head of the Serbian government's Office for Kosovo and Metohija, Petar Petković, publicly stated that the tensions in the north represented the government of Kosovo preparing for bloodshed against Serbs.
"We will not allow a pogrom against our people," he said at the end of last year on Radio Television of Serbia (RTS).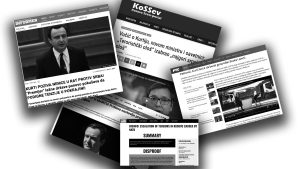 Hibrid.info, an online fact-checking platform, has categorized hundreds of public statements and news reports in the Serbian media as disinformation, unverified and conspiratorial. Since 2020, the platform has been monitoring the penetration of disinformation in Kosovo and the actors behind it.
"The Office for Kosovo in the government of Serbia with its director Petar Petković leads things. From time to time it is also the President Aleksandar Vučić," said Shkëlzen Osmani, head of Hibrid.info. When the situation in the north of Kosovo becomes tense, Osmani said, the most common disinformation he sees is a narrative that Kosovo's institutions are planning to expel Serbs from the country.
During the last year, baseless official statements and subsequent reports in the Serbian-language media asserted that Kosovo's institutions have a list of 230 Serbs they intend to arrest. Other narratives have been that Kosovar Prime Minister Albin Kurti wanted to start a war with Serbia "in March 2022" and that Kurti has requested German troops join KFOR, the NATO military mission in Kosovo, in order to fight Serbs in the north.
President Vučić is known for using hate speech against specific individuals in public.
On December 1, 2022, he called Prime Minister Kurti "terrorist scum." Vučić was lashing out after Kurti appointed Nenad Rašić, who opposes Vučić, as Minister for Communities and Returns. He also referred to Rašić and an appointment of his, Rada Trajković, as terrorist scum in an interview with the Serbian television channel Pink. He then shared the interview on his YouTube channel.