Alketa Xhafa Mripa is a mother — "that's my first title," she says — and then a contemporary artist. Born in 1980 in the city of Peja, Xhafa Mripa was raised in Prishtina and in 1997 emigrated to London, where she currently lives. Now though, she has come back to Kosovo's capital with a mission: to contribute to the liberation of Kosovo's women from the stigma of wartime rape.
On Friday, 12 June, from 10 am, coinciding with the 16th anniversary of Prishtina's Liberation in 1999, thousands of skirts and dresses, donated by women and men in different cities and towns across Kosovo during the past few weeks, will be hung across the green football field of Prishtina's stadium, as part of the artistic installation, 'Thinking of You.'
The artwork, produced by sociologist Anna Di Lellio, has been strongly supported by President Atifete Jahjaga, who donated the first skirt, and the National Council for the Survivors of Sexual Violence during the War. Even music star Rita Ora has made her contribution to this campaign, alongside many more anonymous names, who have helped to bring the issue of wartime rape, and a recognition to its survivors, to the table once again, 16 years after the war ended. With great media coverage and institutional support, "Thinking of you" has become some sort of collective healing. It is estimated that around 20,000 women were systematically raped during Kosovo's war, though the numbers could be bigger. Only last year a law was adopted, recognizing the victims of wartime rape in Kosovo, yet survivors are still stigmatized.
It is not a completely new topic for the artist; Xhafa Mripa has engaged with lesser-discussed, gender related topics, such as breast-feeding, childbirth, or motherhood. Last March, Xhafa Mripa presented her original version of "Thinking of you" in London, within the solo exhibition "You just don't talk about it." Back then there was only a room filled with grass and hanging dresses, as if to dry them after a wash. It was far smaller than the idea of filling a stadium with 5,000 dresses. For Xhafa Mripa, her bold idea seemed far from becoming a reality — until she shared it with exhibition visitor Di Lellio.
Volunteers can help to build the 'Thinking of You' exhibition throughout the day today (Thursday, 11 June), on the field of Prishtina's stadium.
During the process of collecting the skirts and dresses, Kosovo 2.0 asked Alketa Xhafa Mripa what this artwork means to her and Kosovar society.
K2.0: Why the skirt?
For me the skirt symbolizes femininity, beauty, fragility… the woman, basically. These elements are always associated with a skirt. Also, the way society perceives the survivors of sexual violence is about "us" and "them," and for me it was about being one. That's why I asked not only the survivors [of wartime rape] to donate a skirt, but to each woman, and ideally each man as well, to contribute to this installation. The title is "Thinking of you;" it's about bringing each one of us to think about them.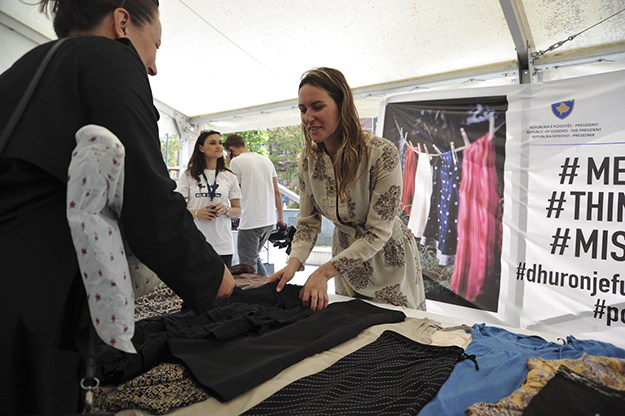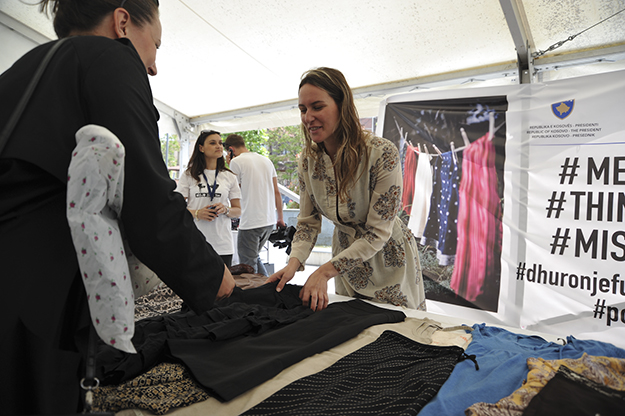 K2.0: Is it some sort of collective therapy?
I think for the survivors it is so. I was talking to them all the time during this project, and it helps when the society is all together, the society at large. Men and women are talking about this issue and saying it's okay, it's not their fault and this is important because they [the survivors] feel that it's their fault, though it can happen to me, and it can happen to anyone of us. Sometimes you don't need to be in their shoes to do something about it, but at least [try to put put yourself] in their shoes and do something about it. The beauty of this is not only the idea and the work, but that that it is of everyone, as a society. That's why it is so powerful.
K2.0: Do you think that until now there haven't been strong enough artworks tackling the issue of women's struggle during the war?
There are (I'm sure) lots of women networks doing activism and civil actions. I am sure that everybody is thinking of doing something but it's a taboo and this is why I wanted to do something too.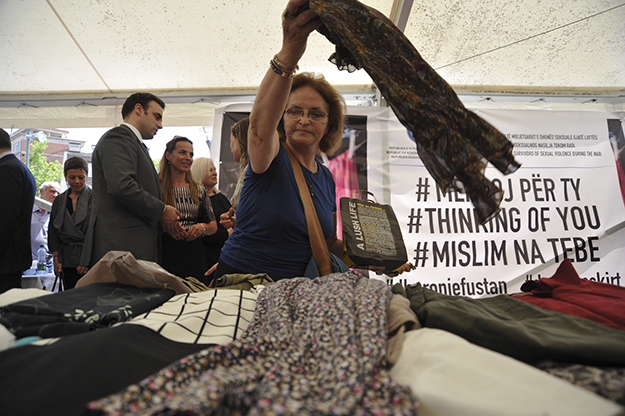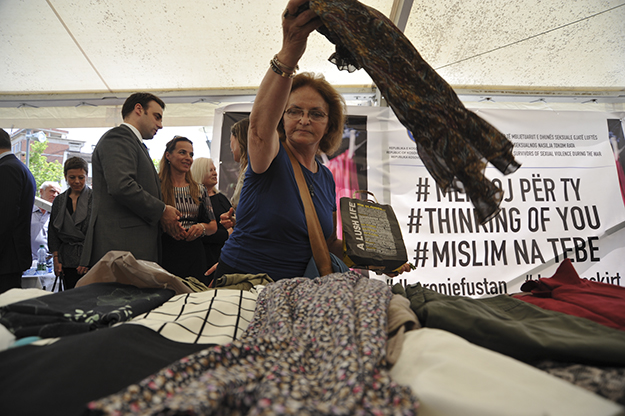 K2.0 How did you learn about the systematic use of rape during the war, the fact that it was happening?
After the war I was in contact [from London] with some of my friends here. They were telling the stories: that their neighbor was raped, that a cousin was raped… There were some people that I vaguely knew, but it was common knowledge that women were being raped. I had this feeling that if I was here it could have happened to me …and I was lucky I was in London studying at that time, since I left in 1997.
K2.0: Men are approaching the collection tables, and donating skirts or dresses from mothers, sisters, etc. How did they feel about it? What did they tell you while you were there?
To be honest I didn't expect men to be so involved, and to come to me and say, "This is my mom's dress, from when she was young." Obviously in this case it reminds them of a time of happiness, when they were "young." On the other hand, a woman gave me a vivid red skirt, and she said: "This is my skirt. It's the dress I wore when I married, and also the dress I was wearing when we broke up," and then she told me she broke up with her partner because she had been raped… I just started crying. I couldn't contain myself. A second one gave me a dress she wore when she was pregnant. She said to me: "I was pregnant and they killed my baby." For 16 years she couldn't have any children anymore because they damaged her. We have these [horrifying] stories, and then we have stories of people donating something very valuable for themselves.
K2.0: The fact people donate these skirts and dresses with such stories behind; is it a way to recover a stolen dignity? To make a statement?
It shows who they are. For me it started as "donate a skirt." Deep inside I love when people bring something that means something to them. It kind of developed into that, but this value can be transferred into the survivors' life. Those skirts or dresses somehow brought [the donators] luck and they want to give it to [the survivors]… I love it.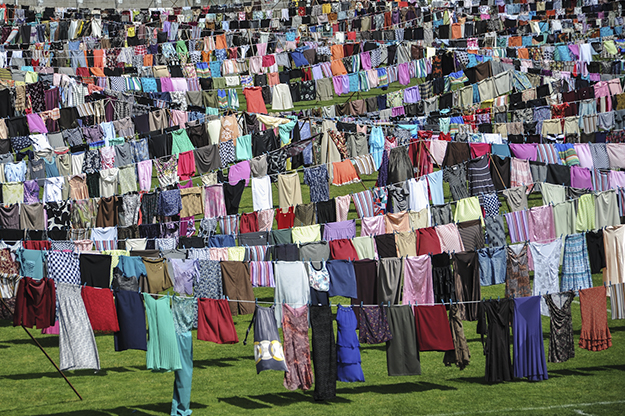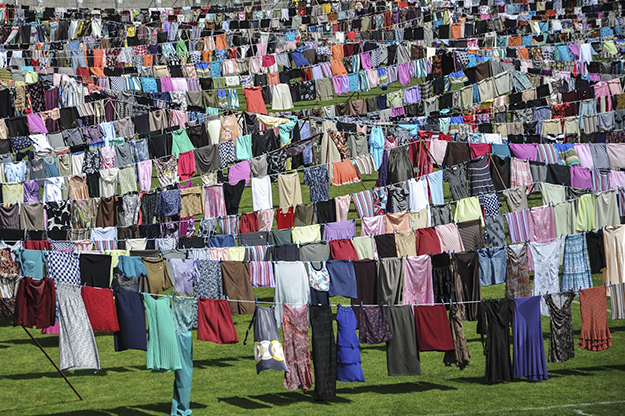 K2.0: You met the brother of Adem Jashari, a strong icon of Kosovo's recent history, a so-called war hero. His brother, Rifat Jashari, said to you "It is time to tell them that it wasn't their fault," referring to the survivors, and you shared his message…
[Xhafa Mripa nods her head, affirming enthusiastically.] It was an accidental encounter. We went to have a coffee in Drenas, as we had to collect skirts there, and I saw him. Anna Di Lellio, who was with me, said, "let's go and talk to him." I told him about the installation about the survivors of sexual violence in the war and I asked him, "What do you think? Would you support this project?" He said this should have happened long ago and thanked us for taking this initiative now, that 16 years passed but better late than never. I asked him if he had any message for these women and he said: "To the wives, sisters, and all our mothers: it is time to tell them that it wasn't their fault." It came directly from him. He also said, though I didn't put that online, that "it's our fault" that we couldn't protect them… For the survivors, that Rifat Jashari says such things makes them feel backed up so much… And I think this is what this artwork is doing.
K2.0: Are you doing this work as a recognition of the survivors, as a documentation of what happened to them, as a therapy to bring the pain out…? What is your purpose?
The way I started it, it was to help, support, and consider them as women, not as "the victims," as the "other" women, and for them to know that society supports them. Until you take it out, and this guilt feeling, from within yourself, you can never be healed in a way. I talked to some survivors and they said "it is our fault." And it's not! But you have to take it out yourself. One of the survivors from Drenas came to me and said: "All the girls are so happy, everyone is saying: 'You see? It's not their fault!'" Everyone is getting a little bit empowered…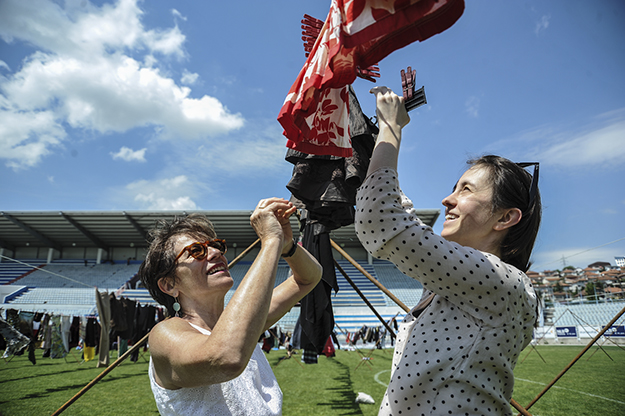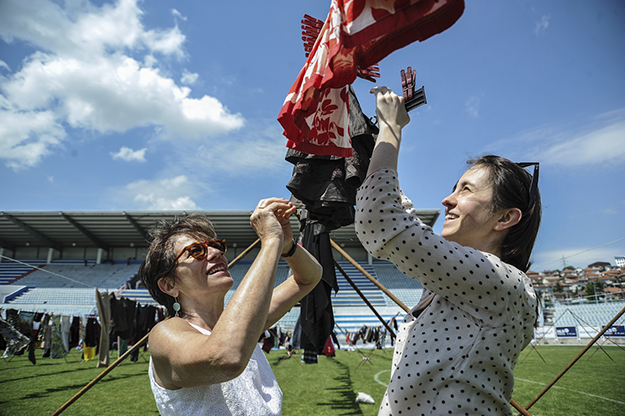 K2.0: Do you perceive this guilt from the people coming to these tables, people who are not survivors of sexual violence, who didn't suffer rape in their own skin? Maybe a feeling of guilt for not being there to protect or to help the survivors before…?
I can perceive these emotions in some of them. For me it's always about putting yourself in their shoes. What could you do? Nothing, but to have the society blaming me on the top of everything? Maybe London helps, the freedom of speech, and the freedom of thinking there…, and doing your bit in this world… Everyone is saying that this initiative is going to bring other things for them. Maybe this initiative gets them out there, but the primary thing for me was to get that guilt out of them… I'm supporting them in the sense that I give them self-esteem, and there is respect to who they are. They've been fed with guilt.
K2.0: I've heard that you didn't want those many public faces, but the project has become big…
I don't like it because this is for the whole society. I'm sure the survivors are not going to become public faces. If people want to donate, they should come to the donation tables and donate. The President is different, because she has backed up the project and without her help it wouldn't be as big as it is now, it's true. She donated the first skirt, which is beautiful because her support means a lot to these women. The whole community of survivors is happy that this took the media's attention.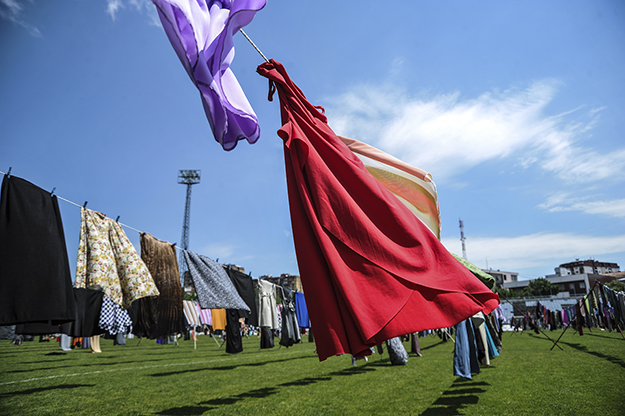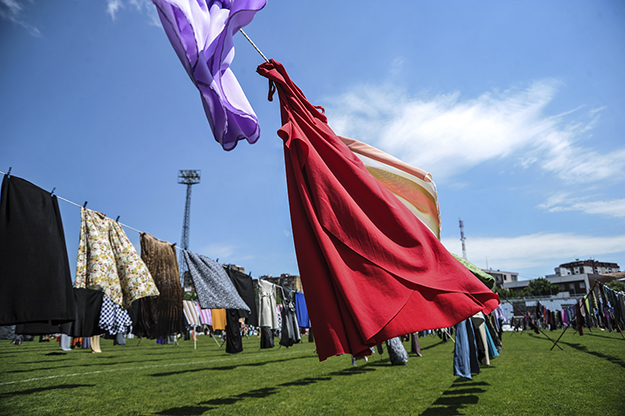 K2.0: Why the football stadium?
It's a macho territory. [She smiles]. It's a man's world; it's also a place for the sweat, the whistling, the adrenaline rushing… That is one reason. Here the survivors, women, can stand and reaffirm their existence, and that we are all one. Secondly, I believe that when these women were tortured, they were enclosed in a (not necessarily physical) square, they didn't know where to hide… even if they were in an open space, they didn't see a way out… And the third one, to bring together all of the male-dominated, Albanian society, all together in one place.
K2.0: Why the Liberation Day?
In the beginning it was just a day, and then it was proposed to link it with Kosovo's Liberation anniversary. I hope it will also be the day of these women's liberation from the guilt, from the shame, so they can be proud out there and not be ashamed because of what happened: a liberation within themselves.K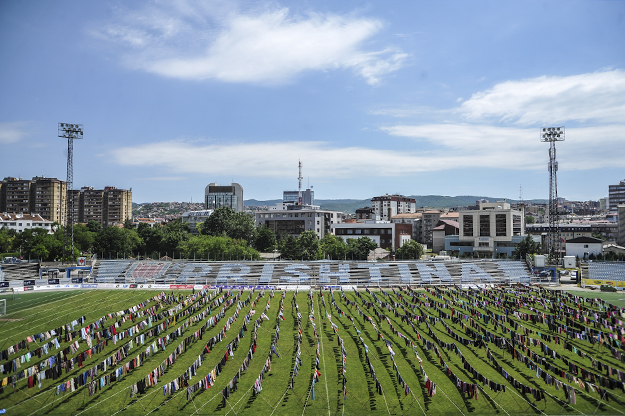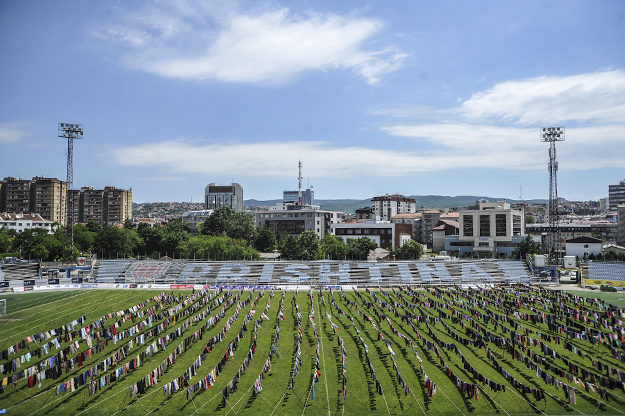 Photos: Atdhe Mulla