As Donald John Trump is sworn in as the 45th president of the United States today, millions of people around the world are preparing to march for human rights that they feel the president-elect threatens. One of the many dots on the world map put together by the New York Times showing the locations of Saturday's Women's March, is on the Republic of Kosovo. The general message of the hundreds of marches planned worldwide is that women's right are human rights.
Citizens and human rights activists on a global scale have joined the cause in solidarity with the Women's March in Washington DC that is expected to be attended by more than 200,000 people. The worldwide initiative Women's March Global will include 300 marches in 80 cities and almost 40 countries across six continents.
The march in Kosovo, organized by Kosovo Women's Network (KWN), will kick off in Prishtina's Zahir Pajaziti square. On one hand, it will be a sign of solidarity with the Women's March in Washington DC, which is calling for an equal and diverse America, something that is seen as under threat from the newly elected U.S. president. On the other hand, it will be to speak out against recent sexist remarks directed toward Kosovar women politicians by their male counterparts.
All in all, marches across the world will be held in order to show support for all marginalized groups in society. The U.S.-based organizers have put together a progressive platform that includes statements on reproductive rights, ending violence, worker's rights, civil rights, Lesbian, Gay, Transgender, Intersex, Queer and Asexual (LGBTIQA) rights, disability rights, immigrant rights, and environmental justice.
"The rhetoric of the past election cycle has insulted, demonized, and threatened many of us — women, immigrants of all statuses, those with diverse religious faiths particularly Muslim, people who identify as LGBTQIA, Native and Indigenous people, Black and Brown people, people with disabilities, the economically impoverished and survivors of sexual assault," reads a statement by the march's organizers. "The Women's March on Washington will send a bold message to the new government on their first day in office, and to the world that women's rights are human rights."
Activists, journalists, citizens and politicians from all camps in the U.S. and around the world were continuously outraged by the rhetoric and bigotry that fuelled Trump's election campaign rallies. Among many other controversies, they included Trump mocking the disability of New York Times reporter Serge Kovaleski, describing Mexican immigrants entering the U.S. as drug-using rapists and calling for a total ban on Muslims from entering the U.S.. He has also been widely called out for his objectification of women, with sexist comments addressed towards celebrities, journalists and even his colleagues in the Republican party regularly emerging during his public appearances or on his personal Twitter account.
After Fox TV journalist Megyn Kelly challenged Trump over his sexist remarks at the first Republican debate of the U.S. presidential campaign in August 2015, Trump responded by Tweeting that she is a 'bimbo.' During a CNN interview he suggested her questioning was a result of her menstruating: "You could see there was blood coming out of her eyes," he said. "Blood coming out of her wherever."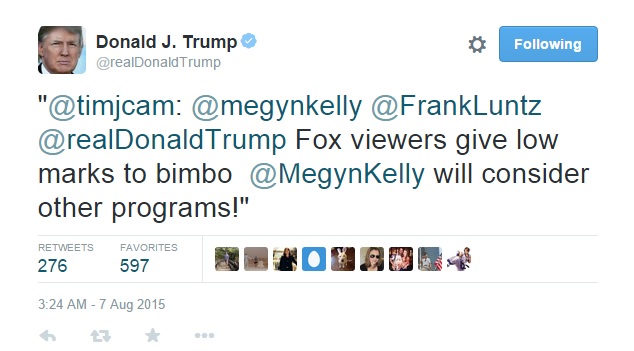 On another occasion he scolded his Republican rival, Carly Fiorina — in what was later condemned as a sexist remark — for interrupting other candidates during the debate, while ignoring the fact that other male rivals were also interrupting each other.
Most infamously, during the final weeks of the presidential campaign, a tape emerged of Trump bragging that "you can do anything," to women "when you're a star," including grabbing them "by the pussy." He later described his comments as "locker room banter."
Problems closer to home
Sexist remarks towards women by male politicians in decision-making positions aren't limited to the far away U.S. and Trump, as has been shown by his counterparts in Kosovo.
Adelina Berisha from KWN argues that highlighting the sexist language used by Kosovar politicians is particularly crucial at a time when Trump is ascending to the most important political position in the world.
"When the president of the most powerful country in the world seems to be like that [prone to sexist comments], then what kind of example can he give for others in other countries," Berisha says. "This can give a very bad example also for the young people and current leaders that can easily say, 'If Trump does it, why can't we?'
In December after Kosovo's minister of justice Dhurata Hoxha appeared on KTV's Rubikon show, Vetevendosje deputy and former Ombudsperson Sami Kurteshi wrote on his Facebook page: "Tonight on Rubikon the 'transparent' cow, called a minister in Kosovo, who is part of the murderous group of this murderous fascist government."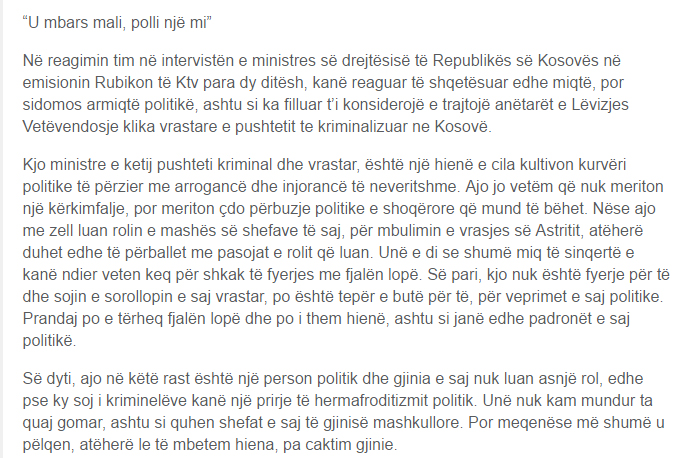 Just days later, while Aida Derguti was addressing the Assembly, representatives of Kosovo's War Veterans Association, who were also present in the Assembly, continuously interrupted her by heckling her during her speech; at one point, the Association head, Hysni Gucati, said to her: "Don't you point that finger at me; I will shove your finger in your mouth" ("Mos bënë me gisht, se ta shti atë gisht në gojë").

"Unfortunately just less than two months ago, we saw two [high profile men] publicly making very sexist comments towards two women politicians, in the case with the minister Dhurata Hoxha and the deputy president of the Assembly, Aida Derguti," Berisha says. "One is part of the government and the other part of the opposition, but both of them are women and were treated in the same way."
There were other notorious cases of Kosovar politicians using sexist language in 2016, including the president of the Assembly, Kadri Veseli, making sexist remarks towards Vetevendosje deputy Albulena Haxhiu. Veseli was heard to shout "ma hongsh…" ("suck my…") at Haxhiu in Kosovo's Assembly, before realizing that his microphone was switched on. In February, the prime minister, Isa Mustafa, was widely criticized for making derogatory remarks towards Kosovar women activists, writing on his official Facebook page: "There are some women that have grazed all possible Western funds, women that might abandon their husbands and go to North Korea (because not even Cuba will accept them)."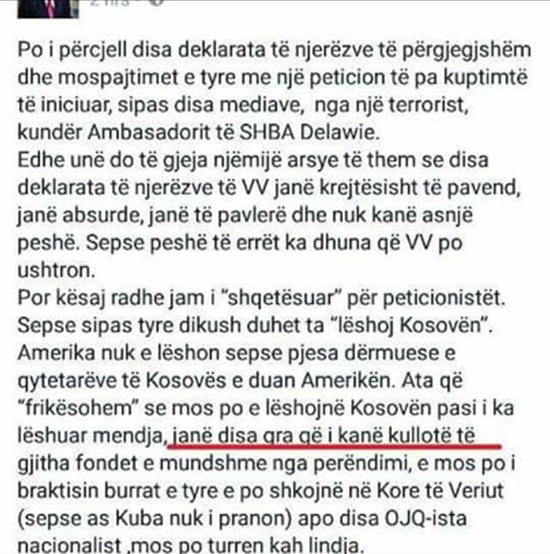 "We want to address that it is not appropriate for a politician to act like that," Berisha says. "We want to appeal to men and women politicians to be careful with the language they are using during their communication with citizens."
While all eyes are on Washington today for the changing of the American political guard, the effects of Trump's policies, actions and words will be felt around the world in the weeks, months and years to come. Supporters of human rights globally are hoping that political leaders take note of their demands, and don't allow decades of hard fought achievements to unravel.K