"They expect you to find peace over time, but I don't know… you are so affected," Isma Begiqi told Kosovo 2.0 in a tone of despair. "Everywhere you go, you feel them behind you… you are always sad. You go out, talk to somebody, but your mind is always with them." For Begiqi, there will never be closure.
Begiqi's daughter, Luljeta, was 23 years old when in March 1999 she was taken by Serbian forces. The two of them, alongside other family members, were fleeing their hometown of Mitrovica in the wake of the 1999 NATO military campaign against Serbia. Eight years after the war, in 2007, Luljeta's body was found in a mass grave in Prizren. Her identity was confirmed based on DNA forensics.
"I always hoped that maybe she ran away and went abroad," said Begiqi. "There are many stories that people turned out to be alive and I hoped for that. Even today, sometimes I think maybe it is not her body in the grave. Maybe she is abroad."
Luljeta was given a proper burial in Mitrovica, alongside other Begiqi family graves. However the same does not hold for Begiqi's husband, who in 1999 decided to stay in their Mitrovica home. Today he is one of around 1,650 missing people in Kosovo.
Torture, killings, rapes, forced expulsions, and other war crimes were committed by Serbian forces against Kosovar Albanians during the 1998-1999 war. International reports and investigations point to a coordinated and systematic campaign to terrorize, kill and expel the ethnic Albanians of Kosovo.
Today, Kosovo marks the International Day of the Disappeared, as across the country families of the victims still await some news on the fate of their loved ones. Families of victims and activists marched today in solidarity and collective remembrance through Mother Theresa square in Prishtina, honoring all of the people who remain missing in Kosovo, as well as around the globe. In a symbolic act, today's activities ended at 16:50, marking the 1,650 people who disappeared in the country. At the end of the armed conflict it was estimated that there were 5,500-6,000 missing people, although that number has reduced over the years, largely due to the steady uncovering of mass graves.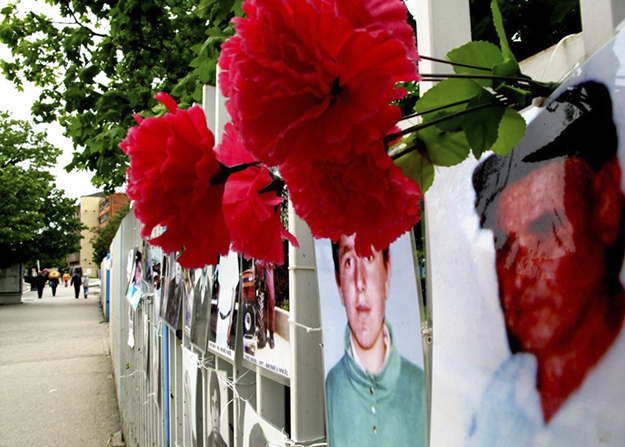 Statistics show how modern conflicts affect civilians. Before the First World War the ratio of casualties — including those who go missing — was seven combatants to one civilian. Today, the balance has shifted dramatically. The ratio is now one combatant to nine civilians.
In Kosovo, the government Commission on Missing Persons organized a four-day program of activities that began on Thursday (August 27) with a conference. Head of the Commission, Prenke Gjetaj, announced the program for the four-day commemoration activities that traditionally include paying homages to victims at the sites where massacres happened. This year, they visited various sites including the villages of Kralan and Izbica. Eighty six Albanian civilians were killed during the Kralan massacre on April 4, 1999 and 49 of them are still missing. It is estimated that 150 civilians died during the Izbica Massacre on 28 March, 1999.