'To love someone as much as you love ajvar'
How pickles and ajvar are getting us through an inflationary winter.
"You're eating, but you aren't. You aren't eating, but you're full. You're full, but you can have some more! Some call it Serbian caviar, but I think that underestimates ajvar. Caviar is aristocratic, but ajvar is the food of the people. It's on the table of the residents of Lebane [in southern Serbia] and the residents of Belgrade Waterfront." 
This is how Miodrag Stošić from southern Serbia begins the story of ajvar — the region's most popular type of preserved food.
Beyond ajvar, which is the first thing that comes to mind when talking about winter food preserves, some other pantry favorites are pickled cucumbers, pickled mixed salad, sauerkraut, minced tomatoes, pickled or roasted peppers — all of which require the input of enormous effort and memories in each jar. It gives security, dispelling concerns about what to eat during the winter months. It preserves the summer and fall flavors of fresh fruits and vegetables for a while longer. And then there is the sense of tradition, as well as the love and pride, when you have the first taste of pickles or ajvar that you've made yourself.
"I'm from Vladičin Han, where preserving food for winter come fall is as essential as breathing. The smell of roasting peppers announces 'act three' of the year and it's hard to avoid," said Stošić. "Fortunately, every household has an oven for roasting, so people don't have to steal traffic signs to have something to roast peppers on. Winter preserves are usually used as side dishes — unless you're vegetarian.
"I hope we don't get to that point where times are so hard that pickles turn into main courses," he continued. "At any rate, preserving food reflects independence and creates the impression that we can prepare ourselves for what's ahead." 
Unfortunately, the dark days of winter have already come, bringing inflation and price increases. In October, when home canning and jarring is usually well underway, the inflation rate in Serbia reached 15%. And making quality preserves requires money, as Stošić says.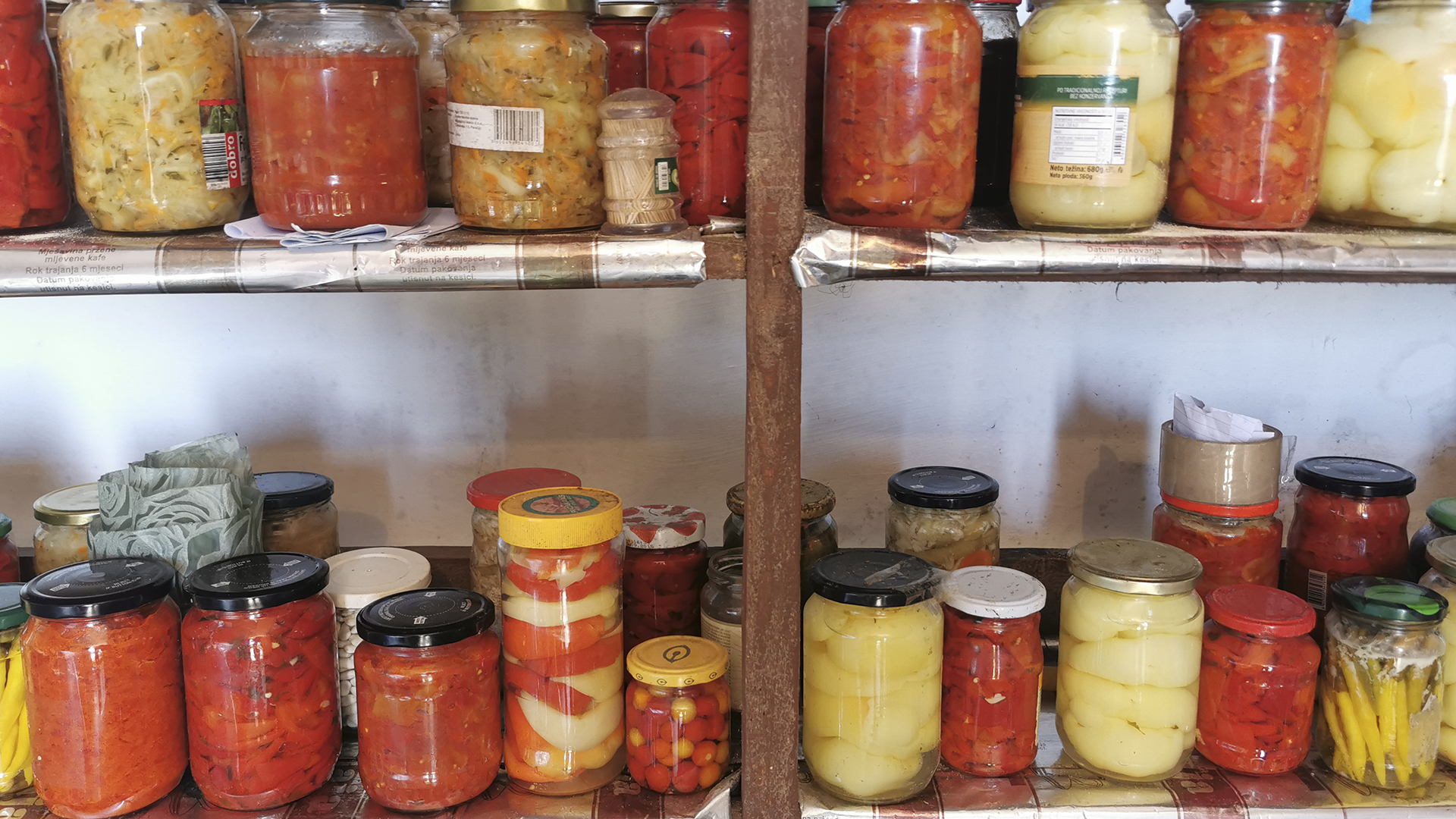 "The money isn't too much and it pays off in the long run, but in times when even strawberries are bought individually, it's not easy to buy, say, a few sacks of peppers and all the other ajvar ingredients. If you want to prepare a lot of preserves, well, that's not gonna work."
In the Lazić family from Valjevo, the late Grandpa Lazić used to be in charge of preparing winter preserves, especially ajvar. He would buy peppers and other vegetables from a wholesale vendor. According to Marko Lazić, the youngest family member, Grandpa did everything on his own — he would roast peppers on their garden stove and then mince them. But for years now they haven't been making preserves.
"It turns out that it's a very pricey endeavor," the younger Lazić said. "If you stick to the recipe and use all the necessary ingredients, a jar of homemade winter preserves is several times more expensive than store-bought. Yes, quality is on the side of homemade, but it simply does pay off anymore. The preparation process is onerous and, above all, expensive. 
"It saddens me that we had to give up on it. It was a family activity where every single of us was included in some way and in the end we'd enjoy good food," he said, adding that along with ajvar they regularly made sauerkraut, pickles and sweet homemade jams.
As for tricks, Lazić said they didn't have any secrets except for the most important thing — buying good homegrown vegetables. Nothing comes of the produce from the supermarket.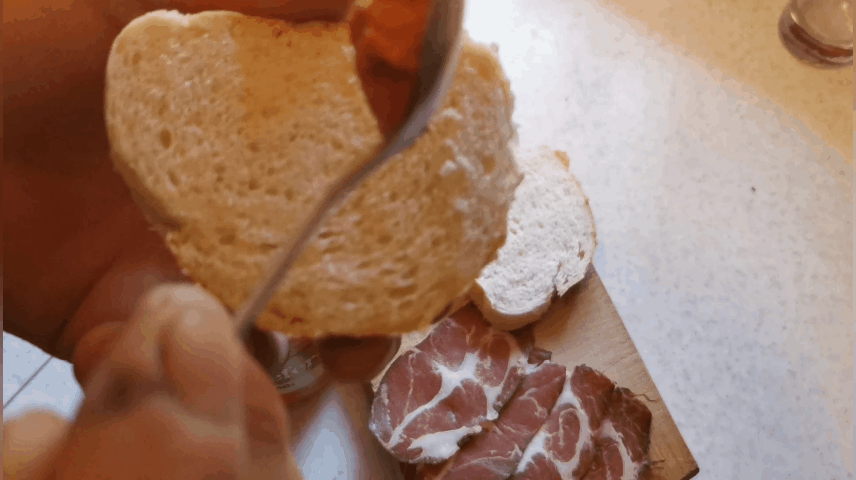 However, this turbulent year marked by soaring inflation prompted some people to try their hand at food preservation for the very first time. Ivana Joković from Čačak has lived alone for a few years. Until recently, her parents helped her out on a regular basis by sending her homemade preserves, so cold winter months were a little sweeter and easier. Various life circumstances, less money and unemployment, encouraged her to preserve food for herself this year.
"I'm not in a position where I could safely say that I'll have enough money to buy food every day and this was the first thing that made me give it a shot and make my very own winter preserves. There's also the upholding of traditions and the beautiful memories that preparing preserves brings. For years I'd enjoy Mom's jars of homemade stuff — and now I can return the favor," she said.
"This year I decided to roast some peppers and put them in the freezer; I made ten jars of ajvar and pickled some cucumbers too. For the first time it's plenty and as much as I could afford. None of it is likely to be perfect and more experienced housewives would have a lot of complaints, but, for me, the fact that I can secure a few meals for myself is amazing and that's all I need," Joković said.
Preparing preserves in a process. It requires careful tending of fruits and vegetables from the beginning of the year. If you shop for fruits and vegetables instead, then you spend days making selections, comparing prices, drawing up cooking and roasting schedules and measuring everything down to the gram and then put a year's work into the one jar that patiently waits to feed entire families and bring them joy. And you create new memories throughout. 
For some, these memories are an inspiration to create poetry. Miodrag Stošić, for example, dedicated a poem to the greatness of ajvar.
"I was trying to come up with a way to write a love poem and I realized that poets have compared the women they love to roses, hyacinths, water, the sky, apples. So everything had already been exploited. But then I thought of ajvar. Even though it sounds a little funny, to love someone as much as you love ajvar is a big deal. 
"Though it's usually red, ajvar is evergreen. It's a taste of childhood that lasts an entire life. In the world of food, ajvar has the same status as Duško Radović in the world of literature or Vruć vetar [a popular Yugoslav TV show] in the world of television," Stošić said. He shared some of the lines he has written: "You are my little jar of fantasy / both spicy and sweet / there is no consolation."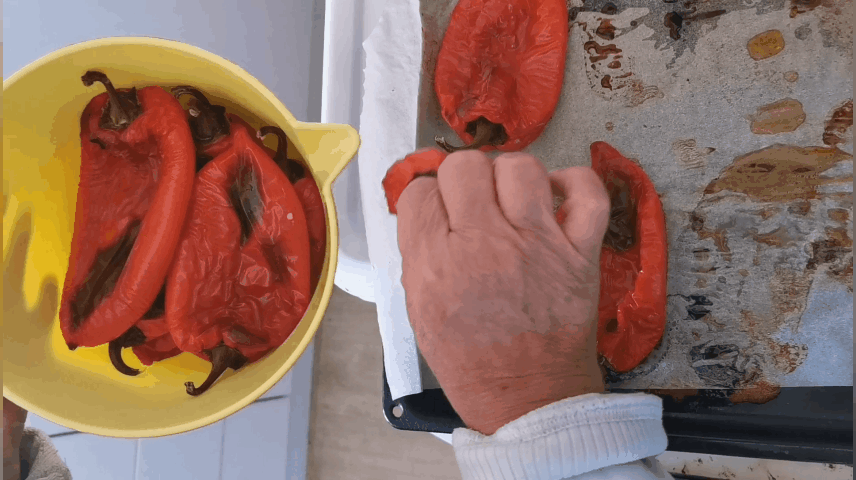 In a village near the town of Lučani, making winter preserves is a decades-long tradition for the Jovanović family. Milka Jovanović associates it with filling shelves with colorful jars, sending food to her children by bus after they left for their studies, and with socializing with others during the preparation, which no longer happens. Milka and her family still do preserve food for winter, albeit on a more limited scale. 
"This year, we prepared fewer preserves because there are now fewer of us at home to eat it, but also because of the price of vegetables and groceries — especially peppers and ajvar," Jovanović said. "We have a greenhouse, but our produce is not for sale, and even that isn't enough for everything we want. We use whatever we grow to feed ourselves in summer, but in winter we go shopping for things to preserve." 
She recalls that once, not too long ago, making food preserves was marked by socializing when several families would cook, roast and prepare things for winter. But this is no longer the case.
"Few people make winter preserves nowadays," she said. "Most just buy a jar of whatever they feel like eating at the moment."
But the Jovanović family hasn't given up on making preserves. For them it remains cheaper than buying everything, it gives some security and brings the family together.
"Making winter preserves is not merely a process where you prepare for those long days of foodlessness; it always comes with some nice experiences and emotions. It's about the food preparation process itself — about the way you make food, because you don't do all this in one day," Jovanović said. "And it's about the feeling of bringing pleasure to another person by having them open a jar of pickles, ajvar, jam, or what have you."
She said that winter preserves instill in her a sense of security because she prepares in advance a portion of the food the family will eat in the coming months. Still, she advises that one should take care about what household members really love eating them because — having in mind the current prices — it would be advisable to make the most reasonable calculations money-wise.
"In our household, pickles and ajvar are the first to be eaten."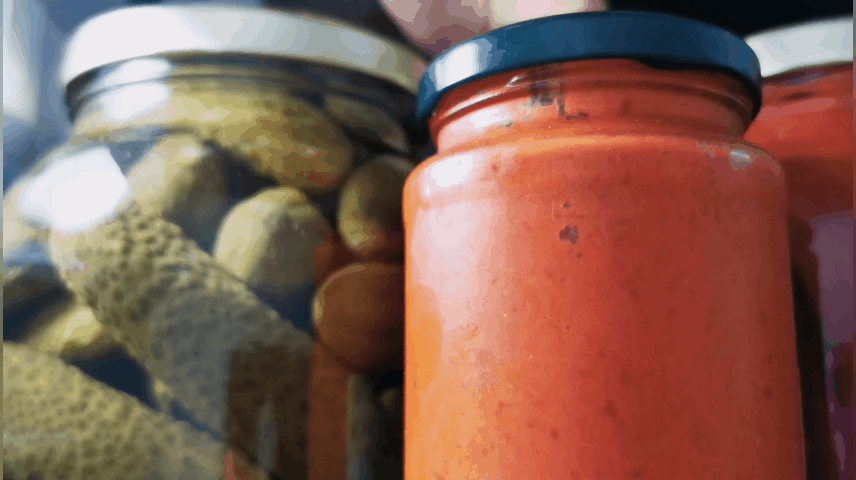 Milka's family also has a special recipe for ajvar, which — according to them — yields more ajvar for less money. It is a recipe based on stewed peppers, which is more cost-effective than buying ajvar.
"So, the recipe I use doesn't originate from Western Serbia. It's a recipe I brought back from Kruševac — a Čarapani one, as we call it [colloquial Serbian term for a native of Kruševac]; they use parboiled peppers there. Besides the wonderful taste, this recipe yields more ajvar for the same amount of peppers," Jovanović said.
Rade, a vegetable seller at the Novi Sad green market who has worked so long he doesn't remember when he started, said that sales have declined in the past year. He also noted that he knows exactly if someone's buying fruits and vegetables for preservation purposes.
"Most people buy a kilo or two of fruits or vegetables. Sometimes also just a few peppers or tomatoes. It all depends on the number of people they are preparing for. You can feel that everything is more expensive," he said. "I'm doing my best to keep prices normal, but it's hard because my production requires money and everything's more expensive.
"They're making preserves nonetheless. I know exactly if someone's buying things with that in mind; if that is the case, they go for the fleshier peppers, smell everything, ask me if it's fresh and buy in bulk. I also have my regular customers who have been buying my produce for years; they won't give up on making their own preserves. I also believe, I know, that it pays off," Rade said.
Winter is at the door. It's been marked by inflation, frugality and reductions in spending, but food preservation is still a must for heroines in many households. It still brings families together, gives a sense of security, sustainability and resistance in the face of insecurity. Perhaps this year there will be fewer jars on basement shelves, but homemade foods full of memories will take many households to the spring.
Feature image: Jelena Božić / K2.0.
The content of this article is the sole responsibility of K2.0.

Curious about how our journalism is funded? Learn more here.