​​'We don't know what it's like to be free'
Homophobia in Kosovo's Assembly.
Avdyl and Rrustem sit across from each other, divided by a table, keeping their distance, though their relationship has never been better. When others are around, they instinctively act like they are merely friends and avoid behavior that might reveal what they truly are –– a loving couple. 

The two men are often forced to conceal their identities and their love from others. (Avdyl and Rrustem are pseudonyms granted to them to maintain their privacy). However, in conversation, they can't conceal the anger and disappointment they feel about the hatred that is directed at them and people like them on a daily basis. They are hated because of their love for each other.
Their future as a gay couple, and ultimately, as citizens of Kosovo, was a topic of debate in Kosovo's Assembly on March 16, when the new draft civil code came up for a vote. 
Though the draft law has 1,630 articles that would regulate various aspects of the private and public life in Kosovo, it was article 1,138, paragraph 2 that was the bone of contention, and practically the only portion under discussion. The paragraph states: "Registered civil unions between persons of the same sex are allowed. Conditions and procedures are regulated by a special law."
The law was rejected.
Avdyl expected these results and the discriminatory language used in the parliamentary discussions. "We simply know that whatever happens," he said, "it will never be in our favor." 
One of the main justifications deputies brought up to oppose the proposed civil code was that same-sex civil unions pose an existential threat to preserving the institution of family.
Avdyl and Rrustem see things differently. "Pushing a gay man to get married to a woman, to build a family based on lies, to lie to their kids, to an innocent woman," Rrustem said, "this is what destroys a family."
With or without a civil code, Avdyl and Rrustem live in hiding and they do not feel free to be open about their relationship publicly or even at home. "The first thing I do when I get home is put the blinds down. Every time Rrustem approaches me at home, I don't dare do so much as touch his hand without checking that the blinds are down," said Avdyl.
Seeing other couples kiss and hug in the streets reminds them of what they cannot have. Their dream is to access the same simple pleasures as heterosexual couples, like holding hands in public. Rrustem, with a pained smile, tells of a time when he touched Avdyl's hand in the square, just to see what it was like, to hold his lover's hand in public. 
Even outside the country, the fear they've developed in Kosovo shows up in unexpected ways. "Rrustem wanted to hold my hand once when we were abroad. I immediately took my hand away. My hand literally started hurting," Avdyl recalled. 
"We wouldn't know how to act if we were free," said Rrustem.
To love openly is not an option for them. And after seeing the hate directed their way in Kosovo's Assembly due to a single sentence in a 1,630 article-long law, Avdyl and Rrustem will continue keeping their blinds down.
"Our blinds are always down so that we can feel safe," Rrustem said. "Feel safe where? At your own home. This eats you up."
New draft, old rhetoric
On March 16, after the morning session, chairman of the Assembly Glauk Konjufca asked the deputies going on a short break to "take a deep breath and reflect" on the upcoming point of discussion: the civil code.  
At 2 p.m. the deputies reassembled for what everyone knew would be a hotly contested session.
The draft civil code is not entirely unknown to Kosovars, as it's been in the works since 2014. The last time it was part of the public discussion was almost two years ago. In August 2020, after being approved by the government, it was sent to the legislative rules and oversight committee.
Later that year, in absence of a quorum, the civil code was never voted on. When the Kurti government came to power in March 2021, the draft was sent back to the Ministry of Justice for review. The latest draft civil code was approved on December 29, 2021, and finally brought up for debate in the Assembly on March 16.
The civil code gained the most attention online after Duda Balje, a deputy holding one of the three guaranteed Assembly seats for Bosniaks and the head of the legislative committee responsible for human rights and gender equality, came out against the draft law in a Facebook post on February 23. 
Statements of hate and intolerance towards LGBTQ+ people continued in Kosovo's Assembly.
She wrote: "As a deputy, I cannot go against the religion I belong to, the principles I live by or against the family values I grew up with. Therefore my vote will be AGAINST. Against because it doesn't belong with the culture and tradition in which we have lived and continue to live."
The comments under her post filled with hate speech. Among the more than 1,300 comments to date are statements saying that people from the LGBTQ+ community "are sick people" and "a shame to this country." One commenter wrote, "I would hang these people in the middle of the square."
On March 16, statements of hate and intolerance towards LGBTQ+ people continued, but this time in Kosovo's Assembly, spoken by legislative deputies. 
The Law on Rights and Responsibilities of the Deputies stipulates that deputies must carry out their tasks in accordance with the constitution and the law, both of which prohibit discrimination based on sexual orientation. On March 16, deputies from the majority and the opposition united to oppose granting rights to LGBTQ+ couples.
Vetëvendosje's (VV) Burim Karameta said, "We do not have the luxury to discuss such issues when poverty and many other negative phenomena are a concern to this country."  
These issues are less mutually exclusive than Karameta suggests. Research shows that LGBTQ+ persons are more likely than others to be impoverished due to discrimination in the workplace, where they are forced to hide their sexual orientation.
Karameta also described himself as in favor of "the natural family," suggested that humankind would cease to exist if LGBTQ+ couples were granted the right to marry and claimed without evidence, and counter to the prevailing research, that kids growing up with same-sex parents "may be more aggressive towards the gender the parental model lacks."
VV's Gramoz Agusholli also said the civil code would "destroy the family," particularly highlighting his fears about same-sex couples and adoption. "What happens to those kids that grow up without the other parent? Why must we destroy something natural to build something new and problematic?" he asked.
Research has shown that children raised by same-sex parents do not differ meaningfully from those raised by heterosexual parents.
Mërgim Lushtaku of the Democratic Party of Kosovo (PDK) also spoke about protecting the family, which he called "the main cell of the state," from same-sex unions. Lushtaku, who was against the civil code in 2020 too, added that his stance is that of the majority of Kosovars.
There have been limited credible or comprehensive opinion polls conducted on Kosovars' stance on the issue of same-sex marriage of civil unions. While some indicate a low level of support for LGBTQ+ rights, more recent polling suggests that a majority of Kosovars may approve of granting broader legal rights to LGBTQ+ couples.
VV's Labinotë Demi Murtezi came out against article 1,138, paragraph 2 because of her desire to "defend public morals," describing any relationship outside of "marriage between opposite sexes" as "degenerate and moral unleashing." She also claimed that same-sex marriage is "harmful to the health of humans," and said that "fulfilling sexual needs in unleashed forms, in opposition to the human naturalness […] is a cause of heavy and incurable diseases like HIV/AIDS."
HIV is generally transmitted through unprotected anal or vaginal sex or sharing needles with infected persons. According to the U.S. Center for Disease Control, the spread of HIV is exacerbated due to stigma and ignorance about the virus, homophobia and discrimination in access to high-quality health care. In Kosovo too, a recent increase in HIV infections among men who have sex with men has been linked to homophobia and misconceptions that lead to people not knowing their HIV status.
During a protest on March 17 about homophobia on display in the Assembly, activist Mirishahe Syla described the language used in the Assembly as a call for collective violence against LGBTQ+ people, adding "in the Assembly, 'protecting family values' was spoken of, let us not forget that family in Kosovo continues to be an institution of violence, where violence is normalized and remains a tradition."  
Protesters shout "Love is not a disease!" in front of Kosovo's Assembly. Video: Dina Hajrullahu / K2.0.

In response to the Assembly debate, the Department of Psychology of the University of Prishtina issued a declaration saying that homosexuality is not a mental disorder, while encouraging the creators of law and policy to proceed in harmony with the principles of human rights. They also state that according to their scientific expertise and experience, discrimination and social stigma harms the psychological, physical, social and economic wellbeing of LGBTQ+ people.
Of 77 deputies present, 28 voted for the civil code, 29 voted against, four abstained and 16 did not vote at all. Mimoza Kusari Lila, the head of VV's parliamentary group is in support of the code, though a number of her deputies voted against it. Besnik Tahiri of the Alliance for the Future of Kosovo (AAK) stated that his party is against it while Driton Selmanaj of the Democratic League of Kosovo (LDK) and PDK's Abelard Tahiri did not give their stances on same-sex civil union and did not vote on the code.
At a moment when Kosovo's politicians are clamoring to present the country as a loyal and firm ally of NATO, the European Union and the broader transatlantic international community, Kosovo's Assembly has, due to homophobic resistance to a single paragraph, rejected a civil code that the EU sponsored. The EU has asserted that the failure to adopt the civil code will have serious negative repercussions to many aspects of the life of Kosovo's citizens.
K2.0 contacted the parliamentary groups of VV, PDK, AAK, LDK and Srpska Lista about their position on the civil code but none have responded.
Would the civil code recognize same-sex marriage?
During the March 16 session, Prime Minister Kurti said that the civil code does not recognize same-sex marriage, nor does it regulate same-sex civil unions. 
Though the code states that same-sex civil unions (rather than marriages) are allowed, it also stipulates that this would only come into effect after an additional special law is passed laying out the details. Regardless, deputies repeatedly asserted that the code recognizes same-sex marriage.
While the code goes too far for the majority of the Assembly, for Prishtina-based human rights lawyer Rina Kika, it doesn't go far enough. The fact that the draft civil code spoke of same-sex civil unions rather than marriage is, according to Kika, already contrary to Kosovo's Constitution, which states: "Based on free will, everyone enjoys the right to marry and the right to have a family as provided by law." 
"They cannot approve an anti-constitutional law and expect us to just sit and watch and allow it."
- Human Rights Lawyer Rina Kika
Kika said that the lack of a deadline in the draft civil code for when the same-sex unions would become legally regulated means the clause is an unsatisfactory half-measure that only leads to more questions down the line. Whether future legislation tries to address same-sex marriages or civil unions, Kika vowed that LGBTQ+ advocates would continue to pressure the government. "They cannot approve an anti-constitutional law and expect us to just sit and watch and allow it," she said.
Responding to K2.0's questions on the topic, Minister of Justice Albulena Haxhiu said, "The Ministry of Justice never approves legal documents that are not in compliance with the Constitution of Kosovo, international conventions and instruments. The Ministry will continue treating this issue in accordance with the Constitution and international instruments in the spirit of European and international standards on human rights."
Blert Morina is the executive director of the Center for Equality and Liberty (CEL), a Kosovo-based LGBTQ+ advocacy organization that is part of the Human Rights Network, a network of groups working towards changes to the civil code. Morina says that the network sent a list of recommendations to the Ministry of Justice about the civil code, including a request for the code to recognize and regulate the right to same-sex marriage and for sex-based exclusionary language to be removed, for example, replacing the phrase "one man and woman" with "two persons" or "spouses."
Similar to Kika's stance, Morina said that the civil code is insufficient as it does not explain what a civil union is, what rights it entails or how long it would take for the law granting same-sex civil unions to come into effect.
"There has been great propaganda that this civil code will allow same-sex marriages or unions," Morina said. "At the moment this draft not only doesn't regulate anything but it has brought to the surface the fact that when it comes to the promotion, respect, and defense of human rights, things are just done on an ad-hoc basis."
Morina said that the Ministry of Justice promised CEL and the Human Rights Network that their recommendations would be taken into consideration. He also said that the ministry promised to send the draft civil code to the group prior to it being sent to the government for approval, but that this did not happen.
The Ministry of Justice told K2.0 that they have carefully reflected on the recommendations by civil society organizations and have created a basis for civil unions to be recognized by the civil code, and for them to be later regulated through a specific law. The Ministry of Justice added that they are planning to prepare a concept document about registered civil unions and have created a working group on the matter. 
The working group, according to the ministry, consists of institutional representatives and members of civil society. They plan to invite academic experts as well.
Morina said that they have not been contacted about this concept document and that since the civil code was rejected, no one from the network has been contacted by anyone at the ministry.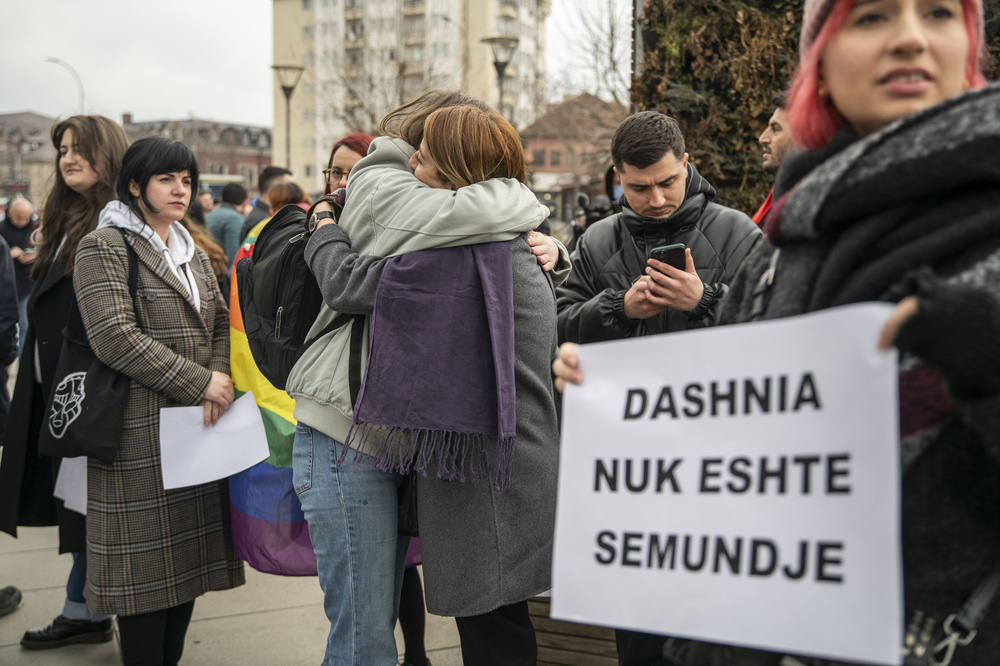 Moreover, Morina condemns the hate speech that the civil code debate has stirred up. He believes this type of hate speech is responsible for increasing levels of depression and the alarming rate of suicide among LGBTQ+ people in Kosovo. He reserves his greatest criticism for figures like Prime Minister Kurti and President Osmani for remaining silent on the issue and not condemning the hate speech in a public and forceful manner.
"The message conveyed through this silence is heavy. Because silence is a message. The moment you do not publicly condemn such hate speech, where is safety? How can LGBTI people turn to these institutions when they experience violence?" Morina asked.
K2.0 has reached out several times to the Offices of the Prime Minister and the President for comment but has received no answer.
In response to the language used in the March 16 session, a protest was organized in front of the Assembly under the slogan "Homophobe, your place is not in the parliament."
The Equal Rights Association for Western Balkans and Turkey and the Human Rights Watch have sent letters calling on deputies and other stakeholders to act according to Kosovo's Constitution, and end the exclusion of same-sex couples from marriage.
Marigona Shabiu, executive director of the Youth Initiative for Human Rights, told K2.0 after the March 17 protest that she thinks the paragraph on civil unions was placed there simply to try and "neutralize or silence activists."
Morina said that they will not be silenced and that they are using every possible option they have as civil society organizations. If no other option remains, he said, they'll take their fight to the Constitutional Court.
Behind closed blinds
As the conversation with Avdyl and Rrustem ends, they share their dreams for their future as a couple. Avdyl tells a story about when he and Rrustem went to a party where someone played wedding songs. "We were so overcome by everything and started telling our friends that we were getting engaged," he said. "Within the night we decided on the venue, the date and everything, while everyone was partying. I had no idea I would get so excited about being engaged."
Eventually, Avdyl said, "We saw that we simply brought to the surface a suppressed dream,"
"I didn't realize how excited I would get thinking about getting engaged to him. Whether or not we will have an engagement party this year remains to be seen."
Feature image: Ferdi Limani / K2.0.


This article has been produced with the financial support of the "Balkan Trust for Democracy," a project of the German Marshall Fund of the United States and the Norwegian Ministry of Foreign Affairs. Opinions expressed in this article do not necessarily represent those of the Norwegian Ministry of Foreign Affairs, the Balkan Trust for Democracy, the German Marshall Fund of the United States, or its partners.
Why do I see this disclaimer?