In the world of medial cliches, people tend to be fascinated by the average. In my world, people are not quite fascinated by anything, they are not even puzzled by what's happening in their backyards. The 'fridge perspective' dominates the narrative of everyday life, at least for most of the people living in my favela.
In this obscure social clinic of fabricated values and Facebook 'likes,' there are two guys I know who are making a decent fight of marinating a new, positive narration for our messy living environment: by making a musical point. The good point about a musical point is that you don't have to read it; you'll understand it when you start to get in touch with your senses.
These two guys, Arber and Tomor, are like two fictional characters, or more like holographic humans — they live in the sounds they play. They both look at music exactly the way I look into the fridge late at night, and to be honest, my fridge often tells me unbelievable stories. For those who know, it's a medium, a gateway, a passage, just like the wardrobe from the Narnia chronicles.
A few days ago I felt tempted to go to the place where Oborri's music lives. It is located in the heart of a vast concentration of lifeless and unpainted tall houses, on a narrow street named after a local hero with a cool name: 'Shyt Mareci.' Only dodgy pigeon breeders with their gold teeth and thick gold neck chains could live in that street. Among those houses, there is a one-storey house with a small front yard full of cats. For those who remember Nakata, the cat-whisperer in Murakami's "Kafka on the Shore," you can bet he lives hidden among the bushes somewhere in Oborri's yard.
The alchemy of mixing
I was always amazed by the science of chemistry, more specifically by the process of dissolving, finding the core where substances merge into one another and reveal their array of states, senses, and aromas… but not sounds.
I have unconsciously been waiting for this event in my life for quite some time; to meet sound chemists. While patiently fishing for new sounds, and after they have been through their creative blocks, Tomor and Arber are cooking their first cake, and I tell you it's going to be a cake you have never tried before; fresh and juicy like a watermelon. Their new sounds are being made of guts, something that I have been missing for a while.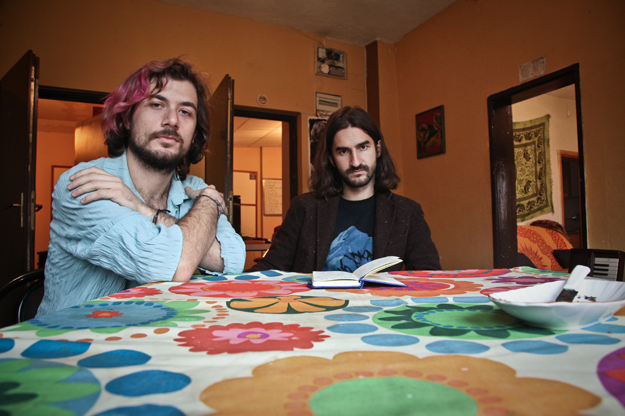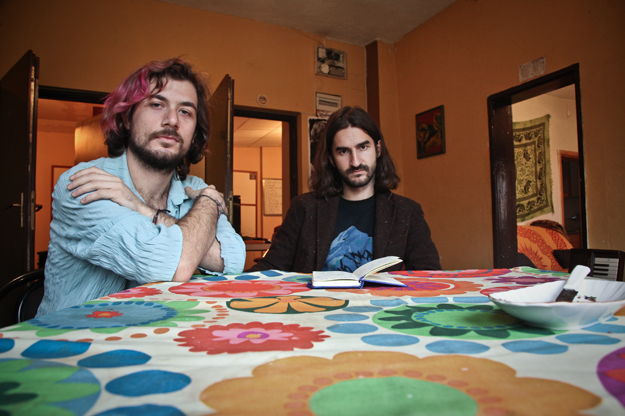 While you're trying to form a picture of what Oborri is, their sounds have already sugarcoated the senses; nomadic and cinematic light pop-grooves give you the right dose of pleasure; no high-pitched vocals or the distortion overkill farting that we used to hear from most bands emerging from the '90s.
In this chemistry of well-fermented sounds, Oborri's album resonates with the intelligence of Brian Eno (with the groove of "Taking Tiger Mountain" and the character of "Another Green World"), while applying the cool, ear-stretching tricks of Zappa. All this by moderately Thom Yorke-ing it. Frankly, few things are predictable in their music and the surprise comes in its simplest tone, in almost every song.
These guys are not your usual suspects. The story of their artfully contemplative arrangements stare down mainstream ignorance directly and boldly. Their music has a Dirty Harry with a lollipop in his mouth look. The ability to dexterously conceptualize the genreless tunes and assemble and place layers of sound over the other… it's like spinning an epic tale under which everyone becomes bewitched.
At some comfortable moment in their studio, I was able to see that there is a thread of stories linking each of their 12 songs. They are connected by what Danish people call 'hygge.' You can try your best not to have a grin and remember something nice while listening to these tunes, but you'll at least fail to remain in the framework of what happens in your insignificant and unimpressive 8-to-5 life.
I've listened to only a handful of musicians as sincere as Oborri; their music would be the best soundtrack if Lars von Trier decided to make an animated film based on any of Marquez's magical stories.
Smuggling the spring into Prishtina's igloo
The sounds of Oborri illustrate the voyage through the door; if you remember the small door in "Being John Malkovich." You're staring drop-jawed at your not-so-crucial turns in life; your decisions, stories and experiences. It is something like watching distant lights from the backseat while being driven back home from the airport during the night, separating from a teacher, the warm breath of a grandfather in the cold morning, walking around with wet socks on, the first fall off a bicycle or the scent of fresh bread in the neighborhood bakery.