After five years spent documenting the stories of Kosovars, Willem Poelstra returned to Kosovo this month to exhibit his slow photography work. In his project "For Hanna, Future Stories From the Past," which was exhibited in the center of Prishtina, the Dutch documentary photographer depicted the impact of the Kosovo war on the lives of ordinary citizens.
Huge color and black and white portraits of Kosovar Albanians and Serbs — who in one way or another are victims of the war — hooked in many passersby in Prishtina's Skanderbeg Square during 10 rainy Autumnal days (October 7 to 16). Surrounding the portraits were raw black and white images depicting familiar events from Kosovo's recent past, such as protests and election days.
"It is not a political statement [that the exhibition is] in front of Parliament," Poelstra told K2.0 as his work was being installed a day before the exhibition opening. "I think this is one of the best spots in Prishtina to have it because this boulevard is one of the most spacious ones. The thing with this exhibition is that it is made to be outside and the reason for that is that it will be seen by people who don't normally go to museums, galleries or things like that. So people who are not interested in photography see it [and when] they see the subject [they are inquisitive] — I think this is why I want it outside."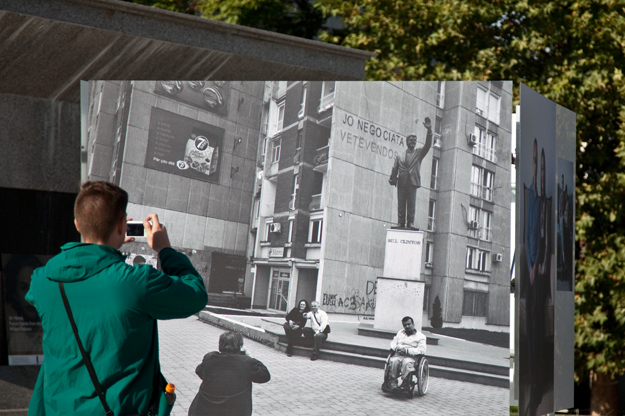 Poelstra, whose work is mainly analog and is unedited, has spent the past four years traveling between the Netherlands and Kosovo. After such a long process of building up his work, he is highly grateful to the Kosovar locals who have helped him along the way.
"One reason is that so many people here helped me and I wanted to organize it here for them, but also for the people I photographed because those people said, 'Yes, we want to be photographed,'" said Poelstra. "Because they said, 'It is good that you tell our story,' and as a documentary photographer you want to show it."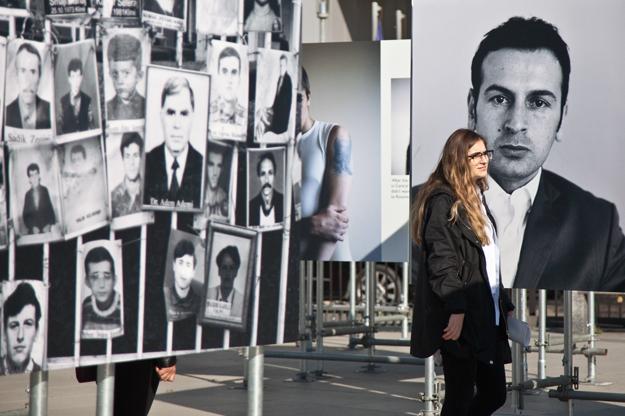 It was a discovery in his own family's story that triggered Poelstra to document Kosovo, transporting his past to the people of the present-day young state: In 2011, after his father's death, while cleaning the house together with his sister, he found a box that was labelled: "For Willem."
"I think my father leaving his box was his way [of saying], 'I know what you are doing. I know you are a documentary photographer and you can do something with it," said Poelstra.
The box contained historical documents and pictures that revealed his father, Albert, spent four years during WW II working voluntarily at a locomotive company in Berlin that transported Jews to concentration camps. He also found the written genealogy of his mother, Hanna, who had died several years earlier: Following its traces he discovered that almost all of his mother's family had been killed in Nazi-occupied Germany. His grandmother lost her four sisters during the war, and 93 family members in total.
"I knew little about it," Poelstra told K2.0, recalling that his parents lived happily together and that the past rarely came up in family conversations. "Just imagine when, two years after the war and after working for four years in Germany, you are dating a Jewish girl; so I understood that my grandmother never liked my father, she was never happy with it. My grandmother was aware but there wasn't much family left of course. And the thing is they never spoke about it."
One year after Poelstra's father's death, Amsterdam's Breda Photo Festival announced its theme for that year as 'empathy.' Festival curators liked the story of Poelstra's parents and asked him to make a story.
"I had the story, pictures, documents and everything [of my parents]. But I wanted to make new pictures," he said. "[I thought], 'I cannot go back to history' [so] intuition made me talk about Kosovo because here in Kosovo families are still opposite each other. When the '90s happened in the former Yugoslavia … I was always struck by the fact that people were friends and suddenly everything was sort of blown away. So I found many similarities [with my own family situation] here and that's why I went on to finish the project."
The exhibition of his first set of photos from Kosovo at Breda 2012, "For Hanna, Future Stories From the Past," ended up forming the first part of a wider project; he subsequently returned to Kosovo to continue with his documentation of the aftermath of the war.
Photography calling
Poelstra's career in photography came as a result of a twist of fate. In 2000 he fell from the balcony of his house and broke his back in three places. After a long and varied career as a professional diver, an operational manager in the oil and gas industry, and latterly in communications, Poelstra's recovery process required him to take a step back from the day-to-day exertions of his previous work.
One day he watched a documentary about a famous Indian photographer, Raghu Rai, which inspired him to switch his path and pursue photography. "I found it so cool, the way he works, and I thought maybe I should do that," recalled Poelstra. "The very same day, in the afternoon, I checked it all out on the internet and booked myself onto a sort of probation course, happening three months later, to see if I was talented enough. I went back to school which is not easy, particularly when you are older."