Where the image of Kosovo in front of the international community is concerned, we can freely say that what politicians are doing, culture is trying to remedy. Yet, each year when budget is divided, somehow a "logical" formula decides that culture is the least important of all other sectors. In the foreseen budget for 2017, approved in principle by the assembly of Kosovo, the budget for the Ministry of Culture, Youth and Sports will be 19.2 million euros, three million less than this year.

The country is poor and underdeveloped, visa regime isolation and endemic corruption are suffocating it like a heavy veil, but luckily that is not enough to end the wish for something beautiful. This year especially has seen some magnificent achievements for art and culture. Kosovo has shown that it is not only a source of infamy, but a place that is rich with cultural activity. It is a place from which world famous pop-singers have sprung and where bands release twenty albums in one night. It is a place from which poorly funded cinematography can make it to the Oscars. It is a place that inspires world renowned conceptual artists and a place whose Philharmonic orchestra played to a television audience of 700 million.

Film at wuthering heights

Let's start with the cinematography of Kosovo, because it is incessantly proving itself as one of the most successful fields of the arts in Kosovo. Over the years, Kosovar film has managed to harvest many achievements, but 2016 was the cherry on top.

The short drama film "Shok," a co-production between the Kosovo Cinematography Center and British director Jamie Donoughue made it to the Oscars, the prestigious annual movie awards hosted by the American Academy of Motion Picture Arts and Sciences. Based on true events, "Shok" tells the story of the friendship of two boys, which is tested during the 1999 war in Kosovo. Although the award for Best Live Action Short Film went to another movie, it only made the filmmakers of Kosovo even more driven to bring back the country's first Oscar in the future.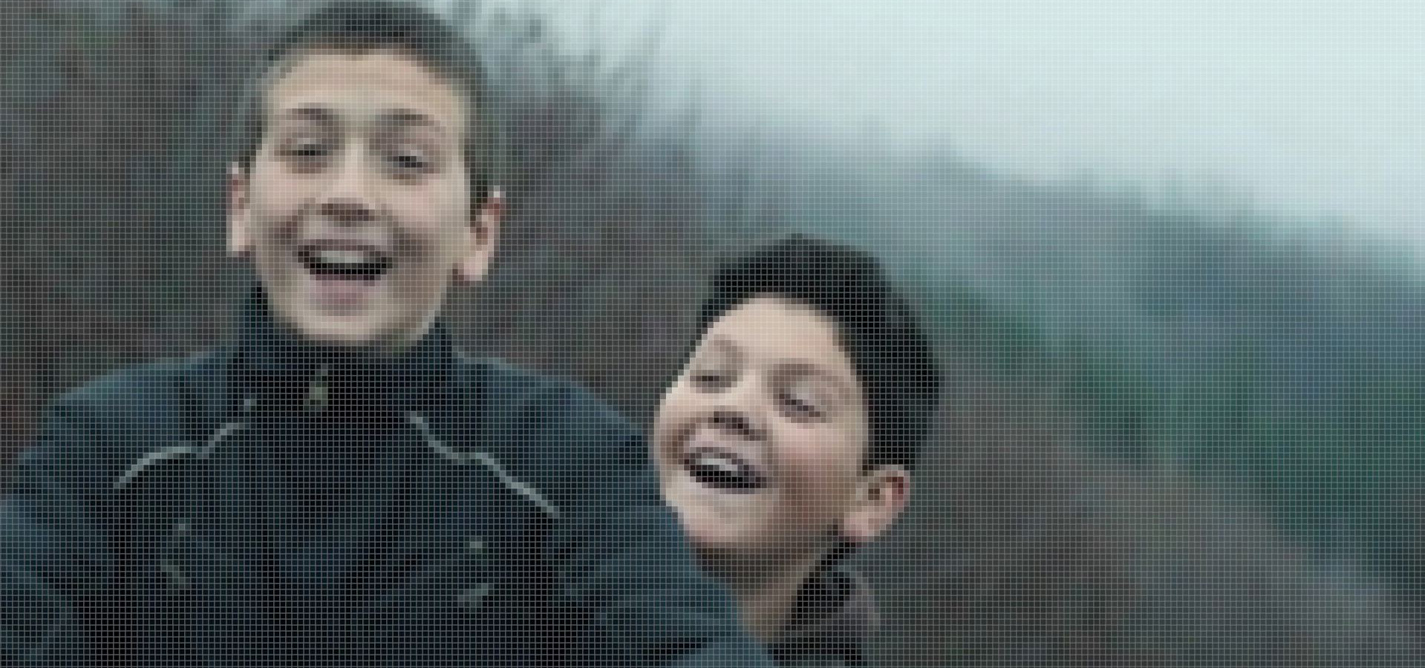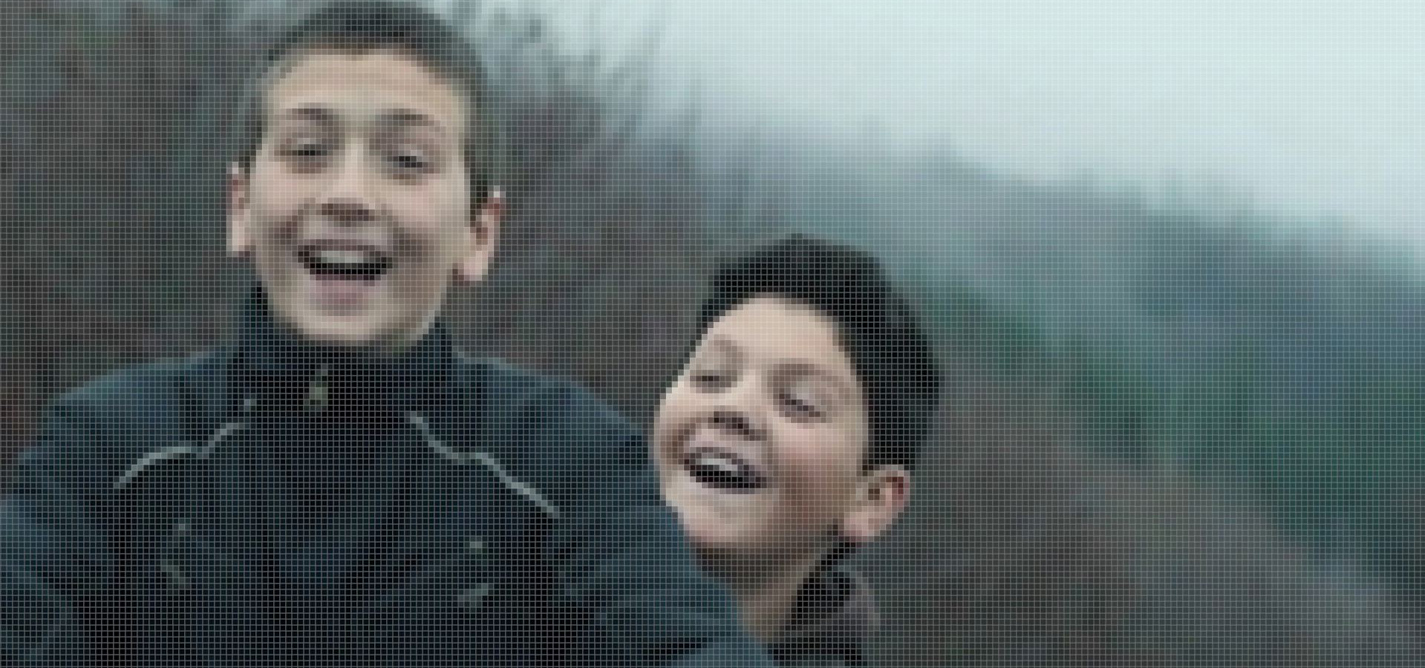 In September, the Kosovo Cinematography Center announced that the drama film "Home Sweet Home," a Kosovar and Macedonian co-production directed by Faton Bajraktari, has been selected as Kosovo's entry for best foreign-language film at 2017's Oscars. The story is again about war, with post-war society being explored through the story of the protagonist Agron, who is thought to have died during the war but returns home alive, only to cause complications for his family who were enjoying the financial benefits of his martyrdom. The film premiered at the Karlovy Vary International Film Festival, to mixed reviews.

Another success for Kosovo film was the short film 'Home,' which found itself nominated for a European Academy Award. Written and directed by Daniel Mulloy, the 20 minute film focused on themes of war and migration, and depicts a comfortable English family leaving on what appears to be a holiday against a backdrop of refugees attempting to enter Europe.
This success for Kosovar cinema, especially the Oscar nomination, prompted the government of Kosovo to raise the budget intended for film production up to a million euros (the average cost of a director of film photography in Hollywood). Warm promises were also given that the government would invest another million euros for cooperations with other countries in cinematography.
One less welcome intervention by the government into the world of Kosovar film making was the draft Law on Cinematography. The draft provoked furious protests from the artistic community who considered the regulations immature, xenophobic, filled with unrealistic expectations about film production, and bluntly illegal in its aim to shut down Kosovar film. It was eventually dismissed.

Cinema from Kosovo also represented the country at film festivals across Europe, including once again at the Sarajevo Film Festival after years of absence. "Drums of Resistance," was screened during the festival, an exploration of the nonviolent resistance movements in Kosovo in the 1990s, directed by Mathieu Jouffre. The festival also saw an in development feature film, "Looking for Venera," directed by Norika Sefa a filmmaker from Prishtina, win an award for its screenplay. The award was given by the European Audiovisual Entrepreneurs association, who will now assist in the development of the film.

Kosovo also held its own film festivals this year. Prishtina International Film Festival (PriFest), returned this year despite 50 percent cuts in funding from the Ministry of Culture, and a year in 'exile' (a symbolic festival was held in Tirana), with new programs aiming to internationalize the film network and the festivals of Kosovo.

Anibar Animation Festival again breathed life into the cultural scene of Peja this year with a variety of animations, especially accentuating this year's theme, global warming and impending natural disasters. DokuFest in Prizren chose a theme which dealt with another disaster, though this time man-made: corruption. The theme was covered through workshops, meetings, and movies.

In addition to the now traditional festivals, Kosovo's movie lovers had a delightful surprise this year with the opening of Cineplexx in Albi Mall on the outskirts of Prishtina. With eight screens, film fans now have a chance to catch Hollywood releases as soon as they hit the theaters.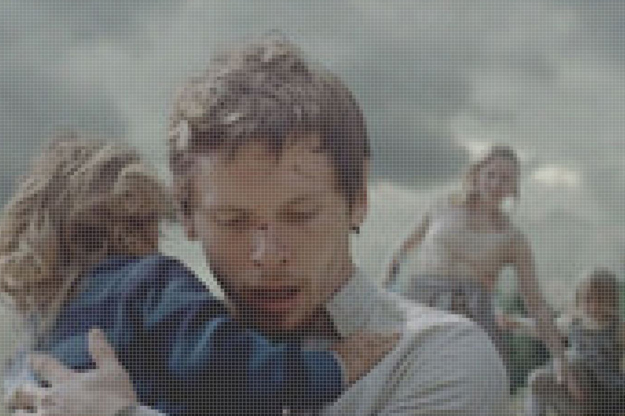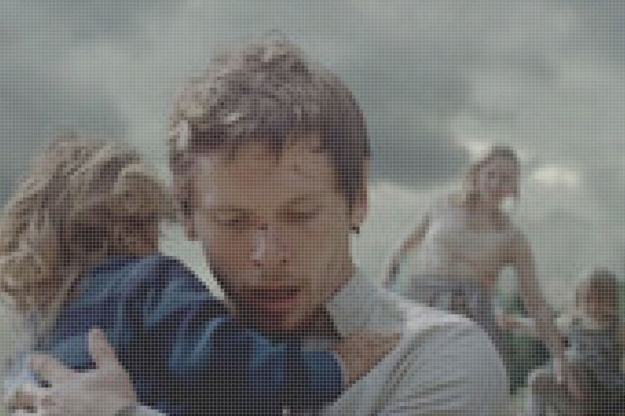 Music: saints & angels

Music was another big hit this year. Era Istrefi, a young singer born in Prishtina, uploaded her 7th single, "BonBon," to YouTube on the last day of 2015. The year started well for BonBon, it reached 1 million views, then 3 million, then boom! The track went viral and the whole world was tasting it, the video racking up 300 million views by the end of the year.
The song became almost inescapable in the Albanian speaking world, and spawned numerous fashion styles and parody versions. It also propelled the 22-year-old singer to comparisons with Sia and Rihanna and a contract with American record labels Sony Music Entertainment and Ultra Music.

Era wasn't the only pop star putting Kosovo on the map this year. After catapulting to fame last year with 'Be the One,' Dua Lipa released three new singles including "Last Dance," and "Hotter than Hell," which reached the top 15 of the UK Singles' charts. "Blow Your Mind (Mwah)" became her first entry on the U.S. Billboard Hot 100, and prompted Sean Paul the Jamaican rapper and musician to feature her in his single "No Lie." 

Dua also celebrated her Kosovar roots in 2016, holding a concert in Prishtina in August, where she performed songs from her upcoming album due to be released in 2017. She also interpreted a song, "Believe in Sun" ("Beso ne diell"), by her father's band, ODA.
Dua's visit to Prishtina wasn't the only major music event of the summer. Festivals including Beerfest in Prishtina, NGOMfest in Prizren, and Into the Park in Peja were held throughout the summer, in often difficult circumstances. Meanwhile, DokuNights, the musical element of Prizen's Dokufest saw celebrated performances from international stars, Omar Souleyman, Super 700 and Yasmine Hamdan as well as a night focussing on the best in contemporary Kosovar music, which saw Prishtina based rock band Me t'njofshem celebrate the simultaneous release of 20 new albums.
Perhaps the most interesting of the year's festivals was newcomer "Visions of Beyond" held at the Castle of Harilaq, a venue near Prishtina airport with a great panoramic view. The festival attempted to promote tourism and artistic activities while raising awareness about cultural heritage. At the door, the ticket was cheaper if you bought two kilos of food for the needy, another humane aspect of this electronic festival which lasted until the sun was up and shining, with promises of an even greater atmosphere for the next year.
Also in September, a more sombre concert was held at the Basilica of St. Paul Outside the Walls in Rome, to celebrate the canonisation of Mother Teresa. The concert was attended by thousands of people and was organized by the Diocese of Prizren and artistically shaped by the Kosovo Philharmonic Orchestra. It was broadcast live by the Vatican's TV channel, "Centro Televisivo Vaticano" to 700 million viewers, as well as by RTK, Kosovo's national television station.
Composed of two bodies, the orchestra and the choir, the Kosovo Philharmonic is one of the most successful artistic institutions in the country. Established right after the war, the Philharmonic has more than 120 members. In addition to the concert in Rome, this year they also performed an opera in Gjakova, "The Song of Triumphant Love" by italian composer Paolo Coletta, the first performed in seven years in Kosovo.
Despite these successes, it seems that in the eyes of the government of Kosovo, the Philharmonic deserve salaries from between 250 to 350 euros a month. Prishtina also still lacks a proper place where concerts and other presentations can be executed. An Opera House has been in the Ministry of Culture, Youth and Sports' plans since 2009 but it is still yet to be created. Estimated to cost around 20-30 million euros, it is almost forgotten due to a "lack of funds" according to the government.
The artistic community blames a lack of political will, pointing out that the same government has poured tens of millions of unplanned euros into a faulty and closed to the public "National Highway" contract.
In regards to cultural venues, citizens began taking matters into their own hands in 2016. In Prishtina, volunteers renovated an abandoned building, creating a cultural center for the community called Termokiss. The team behind Termokiss describe it as a place of mutual help in growing artistically and socially, all free of charge and without financial interest. For now, it is a unique entity in Kosovo, and promises to provoke positive changes in society.
Socially conscious art

Dwelling on government business unfortunately is a must since they manage the nation's money, but it is a bitter necessity. Seeing the work of Kosovo's contemporary artists on the other hand is a sweet delight.
UK- based artist Alketa Xhafa Mripa's work includes paintings, photography, embroidery, films and installations; all of which have distinctive traces of her upbringing in Kosovo. In September this year, Mripa, a former refugee herself, was involved in a number of different activities aiming to raise awareness about the plight of refugees.
Her installation "Refugees Welcome" had it's debut in the British Museum as part of Refugee Week 2016. Drawing from her memories of being welcomed to the UK as a refugee, her installation is a living room housed in the back of a truck that toured Britain in autumn 2016, hoping to provoke questions about the welcome received by refugees today.

Kosovar artists seeking social change have also been prominent at home. The collective 'Haveit,' made up of two duos of sisters Alketa and Lola Sylaj, and Hana and Vesa Qena, have again sprinkled the year with thought provoking performances.
November 28, the day celebrating Albania's Declaration of Independence, is typically a day filled with beards, mustaches and manliness. To celebrate, the four girls sat in front of the Skanderbeg statue in the city center and shaved in front of a camera, naming the performance "Shaving patriarchy."
One of the collective's members, Lola Sylaj also won one of Kosovo's most prestigious art awards, 'Artist of Tomorrow,' alongside collaborator, Dardan Zhegrova.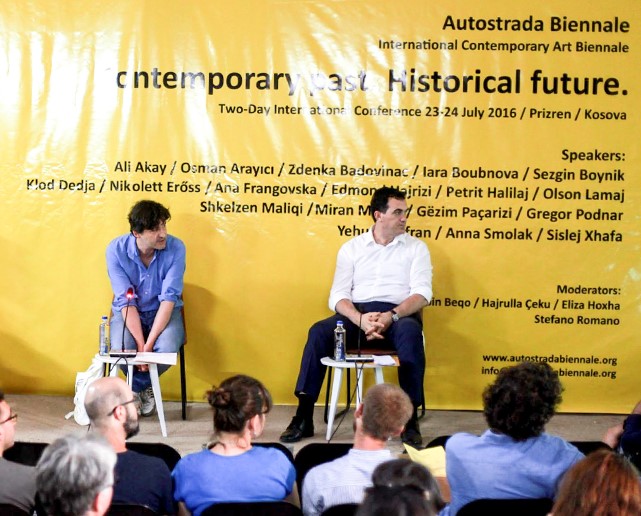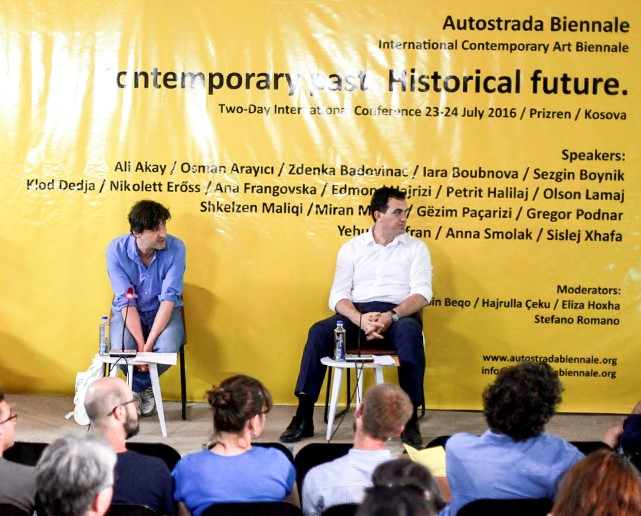 Contemporary artists in Kosovo will soon have a new source of inspiration, as Prizren becomes a new stop on the highway between the Istanbul and Venice biennales. In July 2016, "Autostrada Biennale" held a conference, with internationally renowned panelists discussing the first ever contemporary art biennale in Kosovo.

The National Gallery of Kosovo also has a bright new future. After many complications, power-mongering and six competitions, it finally managed to elect a new director, Arta Agani a master of graphic design.

Dazzling performances

Another Kosovar institution with new blood at the top is the National Theater of Kosovo, which after months of insecurity and acting directors, elected Agim Sopi as director in January, and Agon Myftari as artistic director a few months later in June. Despite these changes in management, the National Theater's program continued as normal.
One of the highlights of the schedule was "A play with four actors and some pigs and some cows and some horses and a prime minister and a Milka cow and some local and international inspectors," written by Jeton Neziraj and directed by Blerta Neziraj. Based on current events, the show explored a tragicomic alternative reality in which Kosovo attempted to join the European Union after the vacancy left by Brexit.

The National Ballet of Kosovo is also continuing to put on excellent performances despite the hard conditions in which they practice. The basement of the National Theater is damp and the floor is hard, causing injuries; the dressing rooms lay in half-ruins. The company of 20 or so dancers have still performed four premieres this year, the most impressive of which was "Recomposed," recently interpreted under the choreography of Christophe Baranger and Jonathan Pranlas-Descours.

These are only the head of Kosovo's cultural achievements. Behind it, there is a body, a machinery working tirelessly as our most effective ambassadors in the world, predominantly in Europe. A large number of students are participating in different artistic shows and performances. Professional artists have merged into the global artistic scene. Actors are being cast in films and theater roles. Musicians from DJs to sopranos are doing their thing in countries here and there. Painters, sculptors, graphic designers, playwrights, animators, writers, architects, fashion designers, curators and others are all leaving their mark. With all of their work, "A lot of times it won't be huge, it won't be visible even. But it will matter just the same."K
Feature image: Majlinda Hoxha / Kosovo 2.0.