In 2011, when the jury chose Astrit Ismaili as the winner of the Artist of Tomorrow award, some of the competition's organizers were anxious. After all, the work that had won the prize, was a series of photographs by Ismaili, in which he posed on a rooftop, covered only by a see through veil, under which he was completely naked.
Their fears proved to be misplaced. The Kosovar media did not create a controversy out of the award, and the public, at least in the circles of Kosovo's art scene, welcomed such a change. Whilst for much of Europe the impact of nudity in art had been softened decades ago and is nothing new, in twenty-first century Kosovo's 'innocent' and conservative society, it could have been quite shocking.

Maybe it still can be, but from what K2.0 has heard is brewing at this year's Artist of Tomorrow, Kosovar society would be wise to get used to ideas that are different from what the majority perceives as 'normal,' and make an effort to embrace all the ways a human chooses to exist.
But before we explore this year's competition, first let's look at its history: how Artist of Tomorrow came to be, its missions, aims, and goals.
International conception

In 1990, with the birth of Democracy in what was then called Czechoslovakia, then President Vaclav Havel and a group of Czech artists established a new program entitled "The Young Visual Artist Awards." The aim of the program was to support young, emerging artists and develop civil society.
Winners of the award would be given the opportunity to participate in a residency program in the United States. The residency would provide possibilities to visit different cultural establishments, where winners could meet other established artists, create new acquaintances, show their work, and even potentially discuss future collaborations.

The initiative spread across southeastern Europe and competitions are currently held in 10 different countries under the Young Visual Artist Awards program. In Kosovo the competition is known as the 'Artist of Tomorrow' award and is organized by the Foundation for a Civil Society, Residency Unlimited, and the Trust for Mutual Understandings.

The award goes to Kosovo

From 2002 until 2014, the Artist of Tomorrow competition was held at the National Art Gallery, despite the fact that the mission of the award is to be independent from state run institutions. However, when Artist of Tomorrow first came to Kosovo in 2002, it was decided that there were "no viable independent art organizations that could have assured the award's integrity, quality, and longevity as well as the Kosovo Art Gallery."
In a press release in September 2015, the organizers affirmed that Kosovo's artistic scene had progressed enough to be able to provide a new host: Stacion — Center for Contemporary Art Prishtina. The press release affirmed that Stacion "has proven to be a leading institution in supporting local emerging artists, exhibiting international art in Kosovo, and generating discussion and exchange among these artists and the public."
The contemporary art scene in Kosovo had made a strenuous journey to arrive at this point. After the 1999 war, when Kosovo was quickly opening up to all kinds of influences and cultures, contemporary art was simply considered as 'not real art' by the established artistic scene.

Artists that produced contemporary art had no institutional support. The first time such art was taken into consideration was with the opening of independent art galleries, such as Stacion in 2006 and later Tetris Hapesira Manipuluese in 2010.

With the election of Erzen Shkololli as the director of the National Art Gallery in 2011, Kosovo's modern art scene underwent a sort of renaissance, as for the first time contemporary art found a place in state run institutions. Contemporary art's standing within Kosovo soon gained more traction, peaking with a Kosovo Pavilion at the Venice Biennale in 2013 and 2015.

Before this, the Artist of Tomorrow award was for many years the only safe haven for alternative Kosovar artists, a place where their work would be appreciated. From its inception until now, hundreds have applied but only a dozen artists have won the award and the residency trip to New York.

Now it's Stacion's turn

Stacion co-founder Albert Heta told K2.0 that before the rights to organize the event were passed over to his gallery, some changes were made to the hosting of the Young Visual Artist Awards. One in particular Heta identified as unfavorable to Kosovo: "Four countries [Bosnia and Herzegovina, Macedonia, Albania and Kosovo] out of the 10 will now hold the award every two years instead of [every year] like before."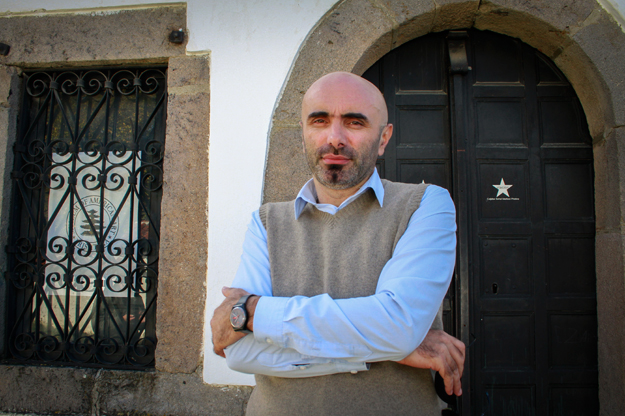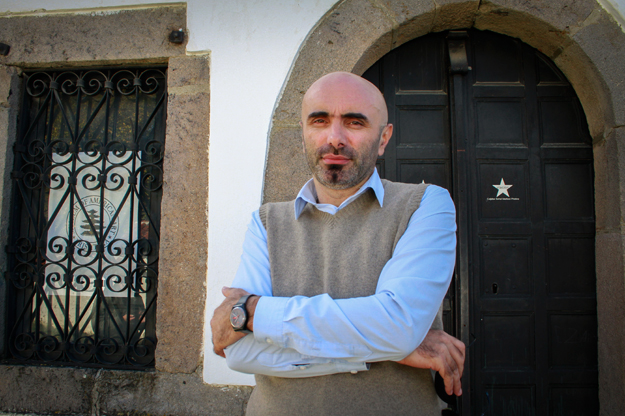 Heta says that Stacion have challenged this decision, and are negotiating to have it changed, although Heta says that it is going to be a difficult process. "The reason given [for this decision] was that a non-satisfactory number of artists have applied, [and] the quality of works and the artistic maturity was not what they expected from these four countries."

From this year, the artists must include in their applications; a biography, proof of at least two years involvement in artistic activity, three to five artistic works, and their proposition for the final exhibition. The winner(s) will depart in May. Until then, the artists will remain with Stacion to be prepared for the upcoming American residency, which now lasts eight weeks.

Heta has asked that the winners from Kosovo share the residency in New York with artists from countries that are as far away from Kosovo as possible, rather than neighboring countries, so that the local artists will get to know other cultures as well.

The competition

This year, Artist of Tomorrow's jury is composed of; Anne Barlow, the head of the jury, an experienced curator and the director of Art in General (an independent visual arts organization), Petrit Halilaj, a local conceptual artist, Miran Mohar, a visual artist who is a member of the IRWIN group — a collective of Slovenian artists, Milica Tomic from the Museum of Contemporary Art in Belgrade, and Anna Vitt, an artist who works with performative intervention and video installation.
Based on the artist's portfolio, their achievements, former exhibitions and demonstrated potential, the jury have chosen three projects to be finalists out 19 applications. The selected artists are Qendresa Deda and Faton Mazreku, who work alone, and the duo of Arberore Sylaj and Dardan Zhegrova.  

The winner will be announced on Oct. 20, at the opening exhibition of the finalists' works at Klubi i Boksit, in Prishtina.
Faton Mazreku — living through his paintings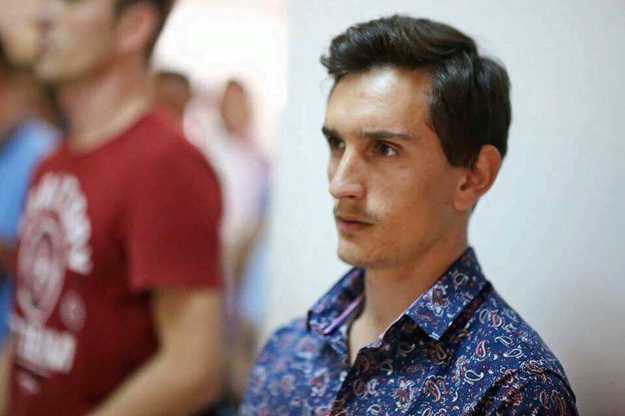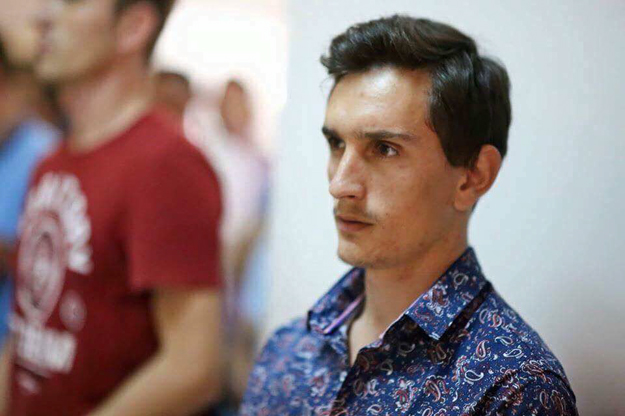 Faton Mazreku, one of the finalists, was chosen by the jury as they felt he had "brought a social and political dimension to the picture, in a unique form that combines that which is viewed with elements of the impossible."

Mazreku is a painter from Malisheva, with many exhibitions behind him in Kosovo, as well as some in Albania. "The painting, or that which I create, makes me speak through the brush and colors [when] approaching social topics," he told K2.0. "The picture is an inseparable part of my personal life, meaning all the things I see, touch and hear — I always think of how I would modify them on my canvas."

He has entered the competition with two paintings in which men appear as the main subject. Mazreku told K2.0 that the men he paints all carry a reality which makes them individuals as well as a crowd, allowing him to dwell on the social reality of crowds.
When he paints, Mazreku says that he is not aware of his whereabouts because he gets "lost in nothingness, because the reality of the men I paint have this peculiarity. I see that they make a common journey. They live in a routine and are silent. Their movement is without destination."
As a true 'artist of tomorrow,' Mazreku identifies himself with his paintings. They allow him to dwell on psychology and sociology, nothingness and life, the social and political scene. He can be in a routine but also on a journey without a destination.

Mazreku told K2.0 that his selection as a finalist and the upcoming exhibition could not have come at a better time for him, because it will help him to be active in the art scene, and stimulate him to be creative and innovative.
Qendresa Deda — the art of drawings, letters, and selfies
During her young life, finalist Qendresa Deda has explored many forms of art, from writing, to artistic selfies and painting. Deda lives in Prishtina but has recently started studying art and new media in Ljubljana Slovenia. The jury wrote that they were "intrigued by the way that an extremely personal practice and daily continuance can be translated in the context of an exhibition." This is not the first time that Deda is participating in the Artist of Tomorrow award, she was also selected as a finalist in 2014.

Deda told K2.0 that she will be presenting writings and photos which she has created over a long period of time. "I try to talk about life and human condition," she stated.
Her works are fairly well known amongst the circle of Prishtina's art lovers. The subject of her art is often her herself, wearing different outfits and makeup in the most curious poses, and with distinctive backdrops: A world of peculiar selfies.
In addition to her photography, she paints and draws as well, mostly people. But if you expect portraits, then it is far from what you will get. Her paintings could be described more like human figures, often representing particular moods and emotions, or hallucinatory faces.
Arberore Sylaj and Dardan Zhegrova — rebels for a cause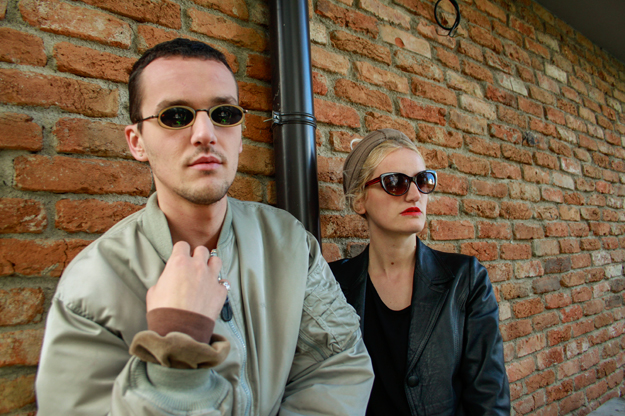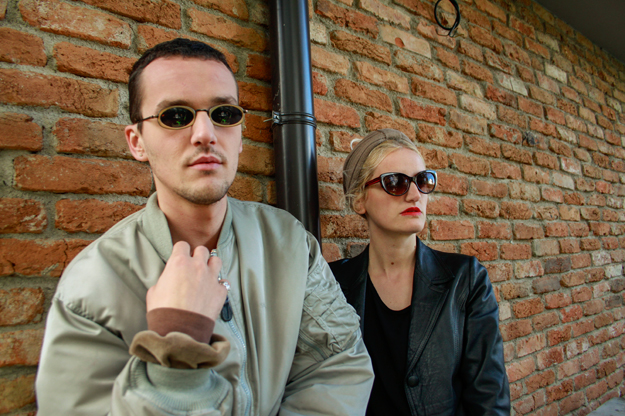 Arberore Sylaj and Dardan Zhegrova have entered the competition as a duo. The jury has selected them as finalists because they were "fascinated with their individual work, and the potential of their collaboration in creating a new work."

Sylaj and Zhegrova told K2.0 that their collaboration goes way back to when they started experimenting with different art mediums, such as photography and film, as teenagers. Now they have a studio where they very often work on projects together, but also create individual works. The Artist of Tomorrow competition presented a great opportunity to do another joint project.

"What has interested us, or is a continuum of our project ideas, is how to transform something public into something personal," explains Zhegrova. "How society imposes ideas on us from the moment we are born, [how] you personalize them and start to comply, or present them as your personal beliefs and act upon them."