Yesterday (Wednesday, October 5) the report "Potentially Ethnically Motivated Incidents: Challenges in Defining and Reporting" was presented at a conference at the Afa Hotel, Prishtina, attended by representatives from government institutions, NGOs and community groups. The report was produced by the European Centre for Minority Issues (ECMI) as part of its involvement in the Equal Rights for All Coalition, a network of NGOs which works to protect the rights of vulnerable and marginalized groups.
Designed to identify issues in reporting crimes between Albanian and Serb communities in Kosovo, it offers recommendations on addressing obstacles to transparent and accurate processing.
In a multi-ethnic society with Kosovo's recent history, potentially ethnically motivated incidents (PEMIs) are prone to being politicized and so pose a particular threat to security and political stability if not handled properly. The numbers authorized for investigation – only 35 in 2011, falling to 16 in 2015 – are very low when compared to those of other countries and do not reflect the perception of communities within Kosovo, suggesting there are issues which need to be addressed.
Explaining the low number of ethnically-motivated incidents reported, the report references those with more than one motivating factor – theft, for instance, may be motivated primarily by material gain even if an ethnic bias element is also present. These difficulties are exacerbated by the lack of common classifying and recording policy across the three relevant governmental institutions- the Kosovo Police (KP), State Prosecutor and the courts.
Furthermore, the legal framework allowing for prosecution of such incidents has not been fully implemented: the part of the Criminal Code that allows for ethnic bias to be considered in a court verdict has never been used. The report's recommendations include more nuanced reporting and prosecuting procedures to allow incidents with a potential element of ethnic bias to be included in data.
The report also discusses the role of politicians and the media in causing escalation of tensions following isolated incidents.
Lacking definition
Introducing the report yesterday, Adrian Zeqiri, executive director of ECMI Kosovo, stressed that its purpose was not to assess the situation between Albanian and Serb communities as such, but rather the reporting and processing of crimes.
Problems are identified in the classification of PEMIs which can translate into inaccurate figures. For example, KP currently class an inter-ethnic crime involving a "heavier" charge, such as assault, under the more serious category and not as a PEMI. The report found that police reporting sometimes downplays ethnic elements to avoid escalation.
Speaking to K2.0, Helena Nilsson, co-author of the report, said that she found that officials sometimes focus more on reducing numbers of recorded incidents than on accurate reporting, possibly due to international attention: The topic is a regular part of the UN Mission in Kosovo's (UNMIK) quarterly report. However, lower numbers aren't an improvement, she says, "because they're still being committed."
Similarly, the courts only record cases that are motivated purely by ethnic bias, which is very difficult to prove. Following a number of incidents involving theft and assault against recent Serb returnees in the Klina municipality, three Albanians were found guilty of robbery but the verdict made no mention of ethnic bias. Material gain may not have been the only motivating factor, but without comprehensive data recording it is difficult to know.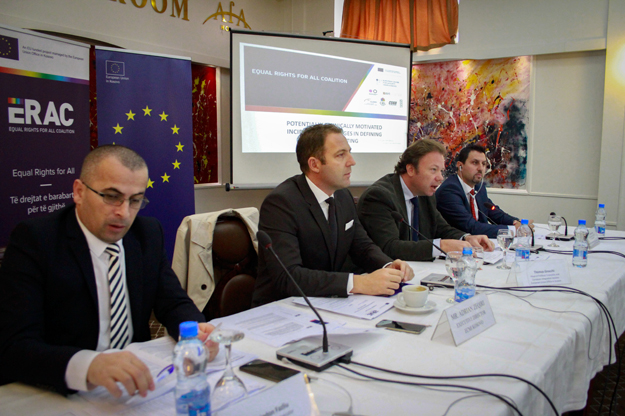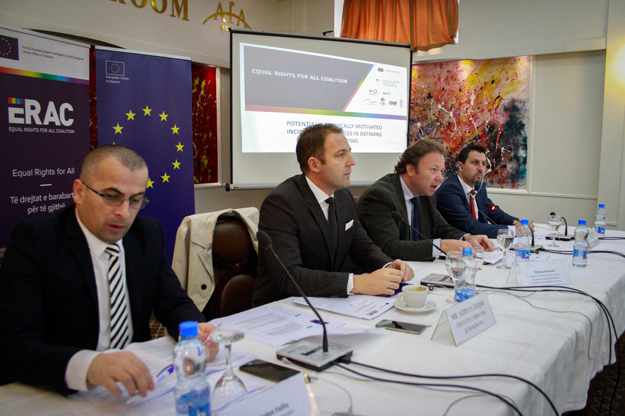 It was also found that the specific article in Kosovo's Criminal Code which allows for ethnic bias to be considered in a court verdict alongside other factors — Article 74 2.12 — has never been used to prosecute a case. Nilsson called this "really surprising" and said that the institutions "need to work on strategies to include it into their working procedures."
Additionally, as of 2016 KP no longer record data on PEMIs, with a coordinator appointed by the State Prosecutor to combine statistics from the two institutions. Although this suggests a more coordinated approach, the reporting practices of the institutions are not uniform, and cases which are initially classed by KP as potentially ethnically motivated but later reclassified by the State Prosecutor and prosecuted differently could ultimately go unrecorded. Nilsson called this a "step in the wrong direction," suggesting that merging data could obscure potential ethnic motivation further.
To address these issues the report recommends a flagging mechanism to identify possible ethnic bias, more focus on including ethnic bias in court verdicts, and joint training in classification of crimes across the three institutions to ensure that close working practices, and the shared database that is currently in development, can be used to maximum effect.
At the conference yesterday a representative of the Organization for Security and Co-operation in Europe (OSCE), praising the comprehensive report, stressed the importance of including bias motivation in initial police reports for correct prosecution, adding that it "shouldn't be up to the OSCE and EULEX" to record.
In response Naim Rexha, Deputy General Director of KP, said that the international organizations' field reporters had only been able to identify more incidents because they can record cases that are not reported to the police.
The OSCE's figures are generally much higher, but its definition of a PEMI also considers the potential impact of an incident, and covers cases that could be seen by the general population as ethnically motivated — even if this is not found to be the case by KP. Their reasoning behind such an expanded definition is that these incidents could lead to an escalation of tensions, or doubts over security.
Different perspectives
The report notes that isolated events can lead to wider tension as a result of comments by politicians: Although Kosovar Serb and Albanian politicians are usually found to avoid inflammatory rhetoric, examples are given of politicians in Serbia emphasizing possible ethnic bias.
Such ethnic bias is exacerbated by the tendency of Kosovar Albanian and Serbian media outlets to draw sources exclusively from their respective communities, producing an echo chamber effect, the report finds; one-sided media reporting of a single incident contributed to the riots of March 2004, alongside frustration with socio-economic difficulties.
There is also a possibility of underreporting due to a lack of trust in government institutions; although a 2015 study, cited in the report, has found a gradually increasing trust in KP, many minority groups still feel ignored, a point that also came out in yesterday's discussion at the report launch.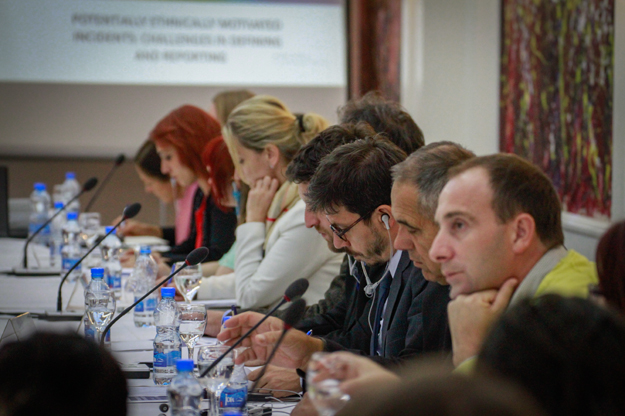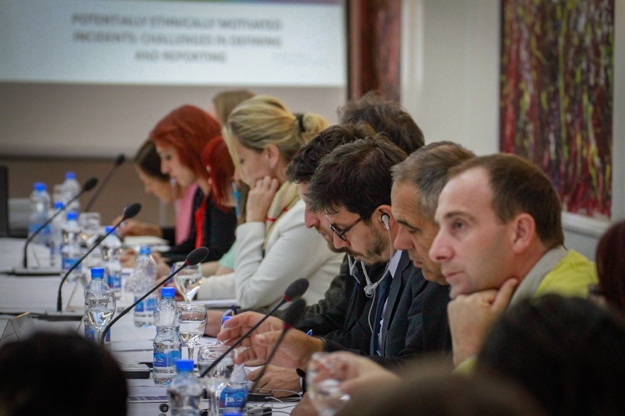 Milica Andric, from the North Mitrovica-based NGO Activ, said that those comments by representatives that downplayed inaccuracies in reporting were a "painful reminder why we [Kosovar Serbs] feel threatened by the majority community … our concerns are not acknowledged." Others mentioned incidents that they considered to be ethnically motivated being recorded differently by KP.
In 2012 Municipal Community Safety Councils (MCSCs) were established as a forum for representatives of all communities to discuss security and raise concerns, in cooperation with municipal authorities. However, they were found not to be "visible enough" within the community, resulting in limited public engagement. The discussion at the conference echoed the report's findings in terms of a divide in perception between institutions and communities.
Asked about the likelihood of the recommendations being implemented, Nilsson said that it remains a "slow process," with recent changes in data collection exacerbating the situation.
However, the unified database should be a positive development, she said, and joint training and effective use of existing legal frameworks and community initiatives could go a long way toward ensuring PEMIs are recorded and prosecuted properly.
Deputy Minister of Internal Affairs Valdet Hoxha welcomed the report at the conference yesterday, saying he could "guarantee we will take it into consideration seriously."
Photos: Fikret Ahmeti / K2.0.