Supporters of Lesbian, Gay, Bisexual, Transgender and Intersex (LGBTI) rights in Kosovo, today marched proudly through the center of Prishtina to mark the International Day against Homophobia, Transphobia and Biphobia (IDAHO). More than 200 people turned out to show solidarity with members of the LGBTI community, who face daily discrimination in Kosovo's homophobic society. It is the third year in a row that the day has been marked in Kosovo with a march.
The action was co-ordinated by LGBTI rights organizations Center for Equality and Liberty (CEL), Center for Social Group Development (CSGD), and Center for Social Emancipation (QESh) under the moto, "Our love is constitutional." "We wanted to tell society that same sex love is protected by the Constitution of the Republic of Kosovo," CSGD Senior Program Officer, Agim Margilaj, told K2.0.
Despite a news portal publishing details of the event — which had been kept deliberately low-profile for security reasons — in advance, supporters of LGBTI rights were undeterred and turned out in large numbers to support the cause. Amongst them were a wide range of participants, from private citizens and civil society organizations, to government representatives and various high profile international figures.
Most notable amongst the marchers, was President Hashim Thaci, who told reporters that he was there not only as president, but as a citizen. "Everyone can love as they wish," he said in a brief statement before the march got underway. "All human rights are guaranteed by the Constitution and laws. Today we are here to affirm these rights with solidarity. This shows that every citizen in Kosovo, no matter their ethnicity, gender or sex, enjoys the same equal rights."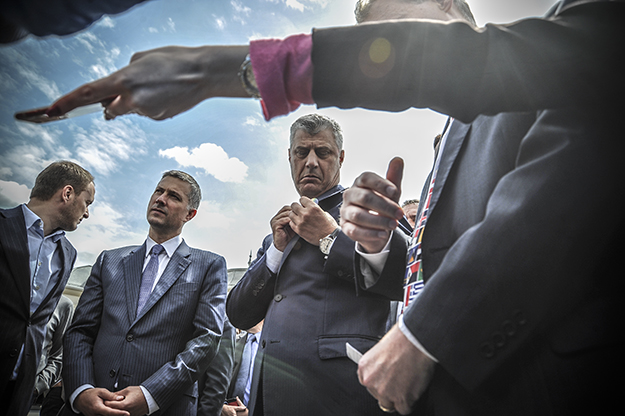 The legal guarantees referred to by Thaci have however repeatedly come under scrutiny, with activists arguing that while same sex marriage is guaranteed by the Constitution, the Family Law of Kosovo undermines this by defining marriage as an act between a man and a woman.
Walking with pride
As people gathered in the cool, late-morning sunshine in Skanderbeg Square, activists went round from group to group offering rainbow badges, t-shirts and placards to hold aloft, while others turned up with their own flags and colorful clothing. The distinctly relaxed atmosphere was interrupted only by the media melee that accompanied the arrival of Thaci, along with European Parliament Rapporteur for Kosovo, Ulrike Lunacek and U.S. Ambassador, Greg Delawie.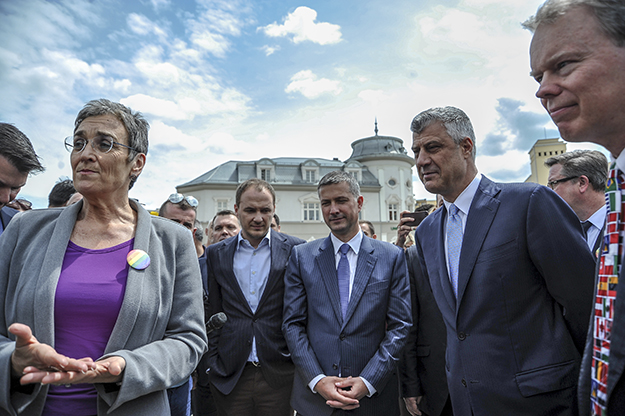 Lunacek told reporters that she was glad to be able to support today's initiative, as it was important for citizens and institutions to show that LGBTI people have respect in Kosovo. "It's so important to be able to live without fear," she said. "Because who would want to go to school or to a job, and not be able to tell in the morning who you went to the movies with the night before. Fear is the worst thing that you can have in your life."
At 11:30, the short but symbolic march down Mother Theresa Boulevard got underway. Activists carrying the rainbow flag led the way, followed directly by Thaci, Delawie and UK Ambassador, Ruairi O'Connell; ambassadors from other countries, as well as government ministers and ex-President, Atifete Jahjaga were notable amongst the crowd.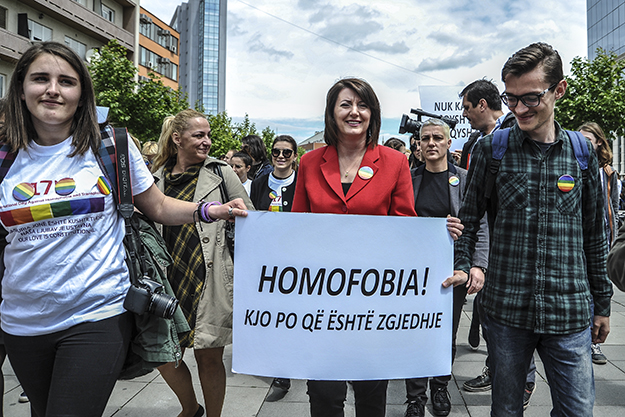 With passers by casually stopping to look at what was going on, and surrounded by a heightened police presence, activists and supporters walked confidently down the boulevard. Some simply engaged in light-hearted conversations and shared jokes as they went, while others held aloft flags and placards with phrases such as "Homophobia free zone" and "Come out now, ask us how," written on them. In a show that LGBTI issues defy borders and that sexual orientation transcends national identities, race and ethnicity, placards were visible in Albanian, English and Serbian.
The show of solidarity continued as the procession reached Zahir Pajaziti Square, with activists taking to the stage to thank all those who had taken part. "Today, we march not only for us, but for every person of the LGBTI community that cannot be here with us, but are in the closet and cannot be themselves because they are surrounded by homophobia and transphobia in Kosovo," declared the organizers, delivering their speech in all three of Kosovo's official languages. "We think that there should be more work done, particularly the strengthening of mechanisms for implementing anti-discrimination laws, as well as awareness of LGBTI issues in general society."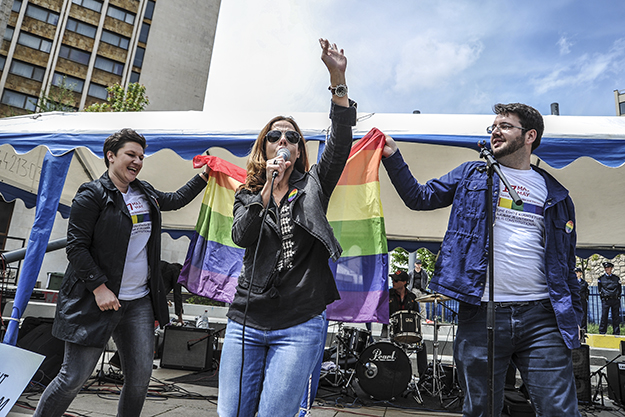 With the speeches over, the crowd was treated to a concert by Mary McBride Band, whose music has featured on "The L Word," a U.S. TV series about lesbian women in Los Angeles. Activists and supporters danced freely in the sunshine, draping themselves in rainbow flags and taking selfies with each other.
Increasing support
As the crowds began to disperse, there was a brief chance for reflection. "It's very important that today, on the International Day Against Homophobia, Transphobia and Biphobia, to have a march in the center of Prishtina," CEL Executive Director, Rajmonda Sylbije, told K2.0. "We were particularly happy with the number of representatives from national and international institutions and especially to have the president here supporting us today. We can also say that today we had even more people at the march than attended last year."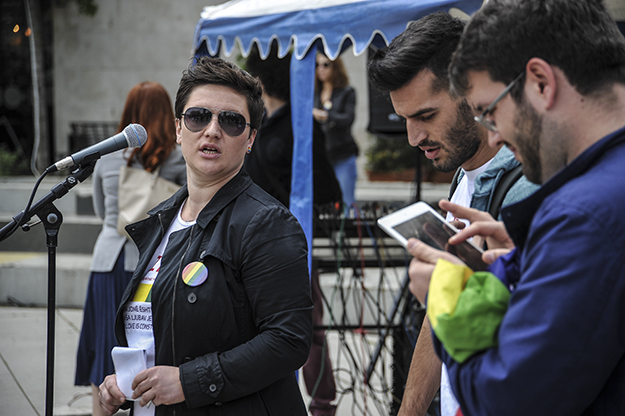 Sylbije hopes that in future, the march can be promoted more freely in the media and on social media, without the need to take the same level of security precautions that has been necessary for the past three years. "As in previous years, the events were organized through hundreds of personal email invites to people who we thought may like to support the LGBTI community and we asked them to invite other people," she said. "It was not private or secret, but it was done in this way to mobilize activists, as well as as a security measure to protect the march and to check how ready the Kosovo Police are — we are pleased with the way they have handled it. We hope that next year it won't be necessary to do the march this way."
Margilaj agreed that the number of people has increased from previous years and believes that the presence of senior politicians and diplomats will help to raise the profile of LGBTI issues. He also emphasized that this year has seen an increase in the number of LGBTI people taking part. "This year we've had [lots] more supporters, [lots] more LGBTI persons that participated in the march, and that's made us really happy that people are coming out of the closet," said Margilaj.
However, despite the positive signs of progress, Sylbije and Margilaj both know that there is a long way to go before LGBTI people can enjoy the same freedoms as their fellow citizens in Kosovo. "At next year's march, we hope to have many, many, many more LGBTI persons joining in," said Margilaj.
Photos: Atdhe Mulla.