Kosovo just completed its local elections on October 17. As on other occasions — national or local elections — TV debates were completely dominated by men. Moderators, analysts and even the candidates invited were all male, dominating the TV space throughout the campaign month.
We have monitored seven nation-wide TV shows for two weeks. As it turns out, the different TV studios invited 279 panelists to 66 prime time shows. Of those, only 37 were women.
For this monitoring, we defined panelists as guests on set, including both mayoral candidates and analysts, but not the show hosts, who are male in over 90% of the cases. The same phenomenon can be found in events, debates and round tables organized by state agencies, think tanks and non-governmental organizations.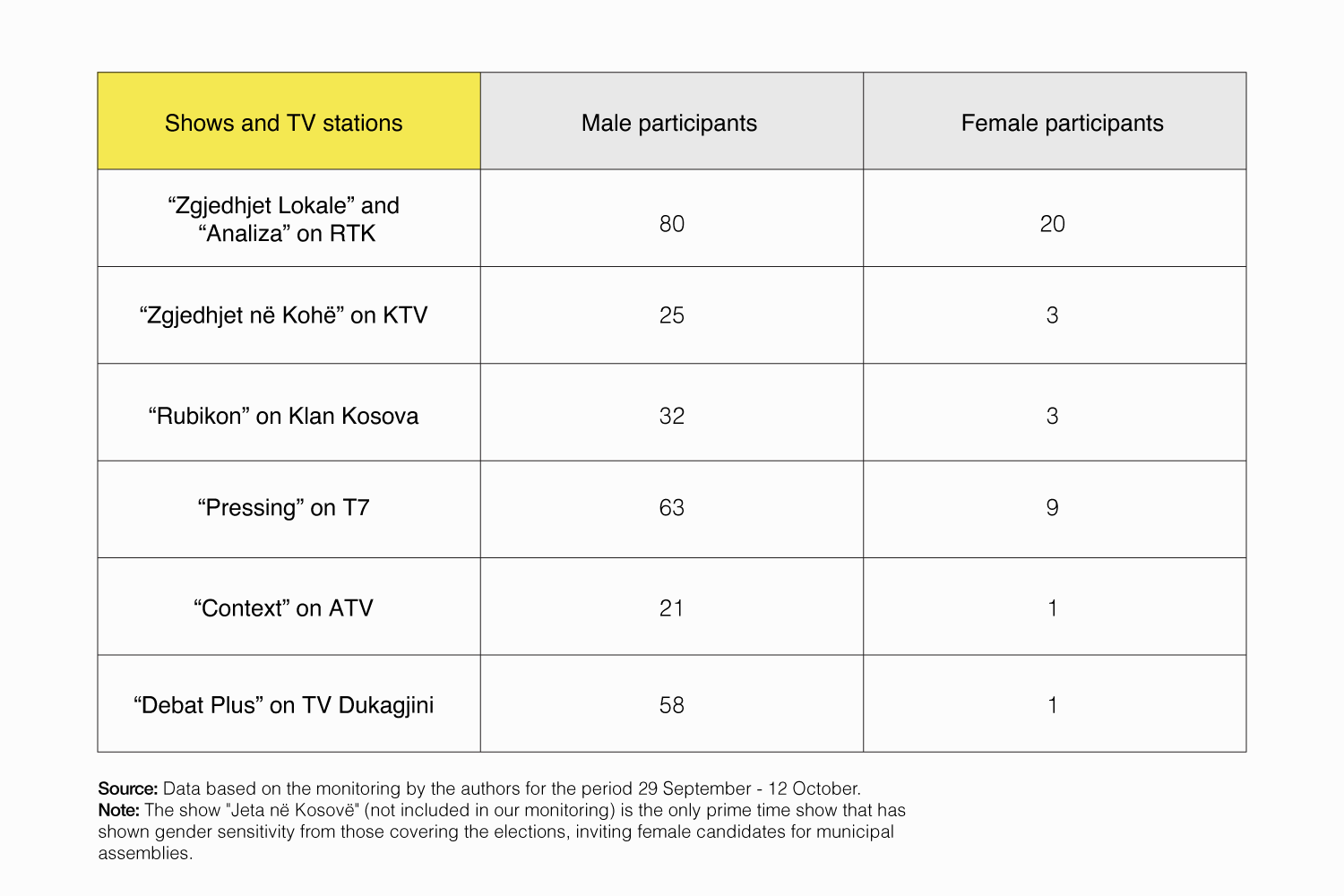 Most of the analysts present on television are former party members or advisers to the country's leaders. Independent researchers and university professors are much lower in number. In addition, there is no ethnic diversity, which is important to understand the ethnic tensions and divisions in the country.
What does this mean for how politics and important topics are understood by the public? First, unbalanced gender representation not only reflects the unequal character of a society, but also presents an unrealistic picture of the interests and opinions of that society in general. If all the TV space is filled with male analysts and politicians, it conveys to the general public — especially girls and women — the idea that politics, as a profession or as an activity, and political questions at large are not a field for women.
It is useless and somehow paradoxical to criticize the lack of female candidates when women are not even seen in television studios. The absence of women in politics is normalized. Since the TV space is homogeneous and dominated by men, they often employ a denigrating and sexist language towards women during debates. For example, during one episode of "Pressing," an analyst twice said in a mocking way that Minister of Justice Albulena Haxhiu had left her position to give birth to her child.
Moreover, an unequal gender, and to some extent also geographical and ethnic representation — the analysts are mainly from certain municipalities and belong to one ethnicity — affects the reproduction of a particular culture that suppresses different thinking, hides daily problems, and makes offering political alternatives impossible. 
Since the current composition of the panelists is entirely made up of the socio-economic elite of Prishtina's city center, the topics and problems addressed do not necessarily cover the viewer's concerns. Therefore, the discourse and problematization of the topics in prime time debates is often neither familiar nor related to the daily issues of the residents of Prishtina or Kosovo in general, who are not part of that small elite group of urbanites from the capital.