We have updated the information in this article on restrictive measures to reflect changing information issued by the
Ministry of Health
. The latest information from the Ministry can be found
here
. (Details of our updates can be found at the end of the article.)
The Ministry of Health announced on Monday (April 13) the introduction of new measures to combat the spread of COVID-19 in Kosovo, following a surge in confirmed cases. Seventy-nine new cases were confirmed by the Kosovo Institute for Public Health the previous day, marking the highest number of new cases confirmed in a single day since the first cases were confirmed exactly a month ago. 
In response, local mayors and the Ministry of Health also announced that the municipalities of Prishtina, Ferizaj, Prizren and Suhareka, as well as one neighborhood in the village of Burojë, Skënderaj, are quarantined, prohibiting everyone besides essential staff from entering and leaving these locations; Malisheva, North Mitrovica, and Zvečan have already previously been quarantined.
The new Ministry of Health measures* will last until May 4, and will be reviewed no later than April 30. 
From Wednesday (April 15), residents will be prohibited from leaving their house or apartment, except for limited specified purposes. 
Each resident will be restricted to a specified 1.5 hour time slot in which they are permitted to go outside to buy food, medicine, or to carry out financial tasks. The designated time slot is determined by the penultimate digit (the one before last) of citizens' personal numbers on their ID cards, or passport numbers if they don't have ID cards; for foreign citizens it is determined by the penultimate digit on their passport number or ID cards.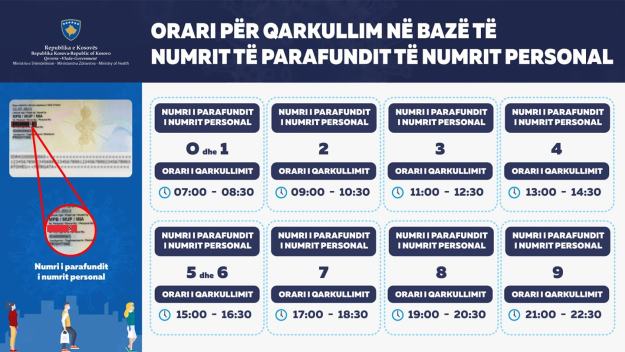 People with disabilities and those under the age of 16 are allowed to be accompanied by one person when they go out, while others must be alone. People above the age of 65 are recommended to stay home at all times, barring emergency or "necessary" situations.
While outside, citizens must keep their mouths and noses covered with a "mask, scarf, or other cover." The requirement to maintain a 2 meter distance from other people remains in place.
The new measures specifically emphasize that social gatherings and family visits are strictly forbidden.
Minister of Health Arben Vitia said in a press conference on Monday that the institutions consider the amount of citizens permitted to go out in any specific timeframe — 40,000 — to be "manageable." 
"The measures may seem rigorous, but experience from other countries has taught us that if we do not act now, it may be too late and after a while we will again be forced to take these measures, but at a much higher cost to the lives of our citizens," he said.
Following confusion from citizens on social media as to how those only allowed to leave during evening or night time slots would carry out their essential tasks — when businesses such as banks will be closed — the Ministry published further official information explaining that the allocated time slots would change every three or four days. 
The decision exempts certain economic operators, a list of which were subsequently published late on Tuesday night, and the essential staff of institutions "only to meet the needs of the institutions."