As part of the 17th edition of Kosovo's Francophone week, a new exhibition is currently on display at the National Gallery, showcasing the work of South Korean artist Hayoun Kwon. The exhibition opened on March 16 and will run until March 26. It also features Kwon's video installation, "489 Years," which was selected by two French curators, Odile Burluraux and Jessica Castex from the Municipal Museum of Modern Art in Paris.
"489 Years" is Kwon's third work on the Korean Demilitarized Zone (DMZ) — the intensely guarded strip of land that divides North and South Korea. The piece is based on the memories of a South Korean soldier who served in the DMZ.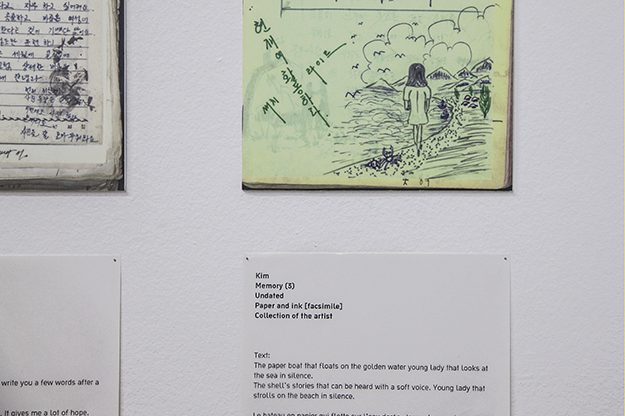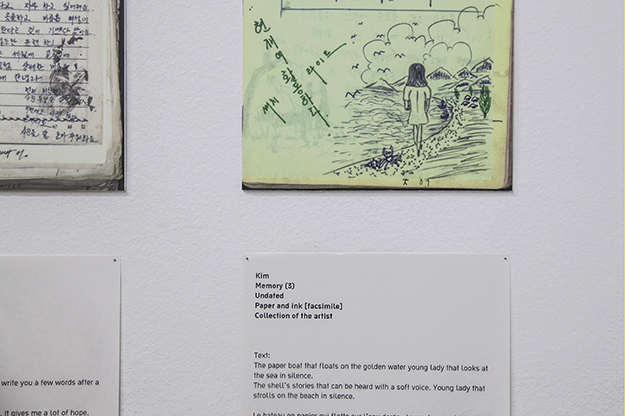 A huge part of the second floor of the National Gallery has been dedicated to the exhibition, which alongside the film also features notes from the soldier's diary and a small television playing an interview with the artist. The film itself can be viewed in two formats; projected onto a large screen, or in 3-D through virtual reality goggles.

Watching through the goggles is like taking a walk inside the DMZ, seeing it through the eyes of this soldier, while he narrates his story. A particularly powerful moment occurs when the journey is interrupted by a static wild boar, who fixates on the viewer. After a few moments, the wild boar turns to walk away, limping and missing a foot, likely a result of one of the many mines in the DMZ — it is estimated that around 3.5 million have been laid by armies on both sides.

The exhibition is a world premiere, and Burluraux and Castex revealed that they selected this artwork as it talks about borders, division and a lack of communication, issues they feel are all relevant to Kosovo. Burluraux and Castex met with K2.0 to discuss "489 Years," the meaning behind its name, and what the author wanted to provoke with the piece.
K2.0: Could you tell us how you came to curate an exhibition at Kosovo's national gallery, and a little about the work you have selected?
Odile Burluraux: We were invited to do an exhibition here because it is the week of Francophonie. We proposed a work that belongs to our collection and that we bought this year, but has not been shown in our museum yet. It is a new piece.
Jessica Castex: It is a work by Hayoun Kwon, who was born in South Korea and studied in France. She is very interested in the history of the two Koreas, and her work is focused on this history. This work, "489 Years," is the last in a three part series on Korea, and especially the DMZ.
What does this title, "489 Years," refer to?  
OB: If you wanted to remove all the mines from this territory it would take 489 years, because there are so many mines in there, even though it is very small — it is only four kilometers between the North and the South. It's also totally unreachable by anybody except the two militaries, and even they don't go everywhere. The video starts with the story of a [South Korean] soldier. His name is Kim, and he was a soldier in this zone.
Kim wrote a diary and some letters, and he took photos. We have shown the world some extracts of his diary and his notes. Kwon met this man and spoke with him and recorded his voice. So in the video we hear what he says about everyday life, when he was going at night into the DMZ; what he was feeling and thinking, what he saw. It is a place where you can see some trees and vegetation that do not exist anywhere else in the world anymore. There are also some animals that have disappeared, but they still exist there.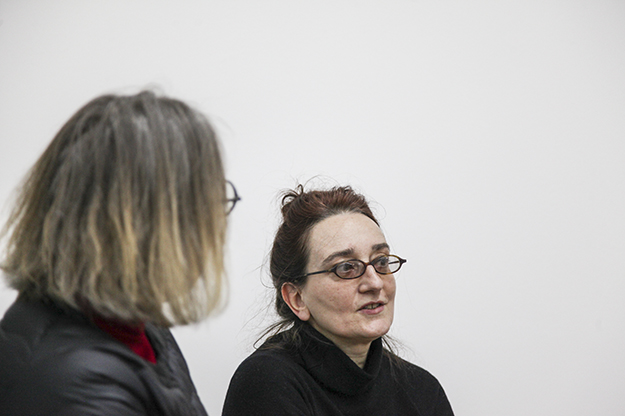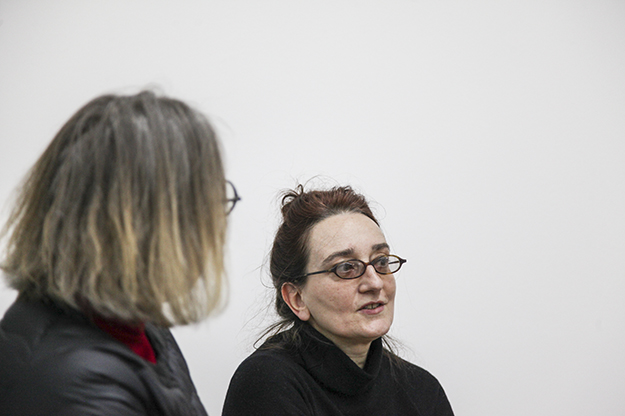 JC: It is a very strange area. Over the years a forest has appeared, with wild animals. Kwon would like to give an experience of this zone, which is why she imagined the film with the special technique of virtual reality, with the goggles. In fact if you experiment with that, you can have a real physical experience. You are not only imagining with the mind, your body is also feeling that it is immersed in this area. It's very strong.

OB: To make this video she has been drawing a lot, because she produces each image by herself in a studio. It's all digital of course. She is mixing a kind of reality with some imaginary fiction. Most of the images are drawn from her own understanding of the souvenirs of this soldier, so it is all mixed.

At the end of the video, a chain explosion starts, the whole place gets blown up, and fires start all over. What do you think the artist wants to say with this ending?

OB: It is the way she sees the danger. Because there is always a fear of the North, who are trying all the time to produce nuclear weapons and rockets. The North is threatening the South, and the rest of the world actually, but they are also  brothers. So there is always this question. The fires that ignite and propagate themselves on the hill, it's like a border of fires. It's a depiction of borders I think. It is a very strong message.

For us, there is real sense in showing this work here, because the question of borders, the question of countries being neighbors and not always being able to have a dialogue and be at peace. We thought that it would be a sign, because the DMZ gives a lot of inspiration to artists.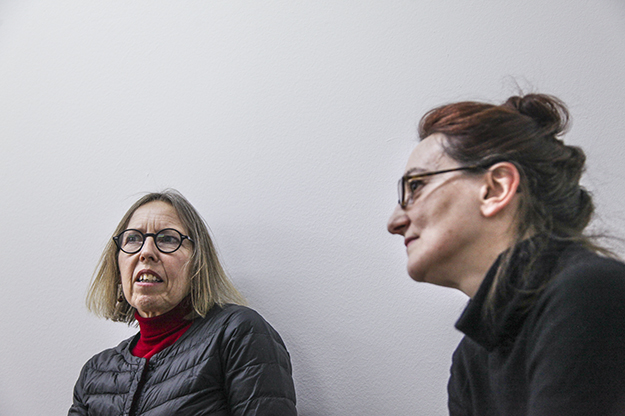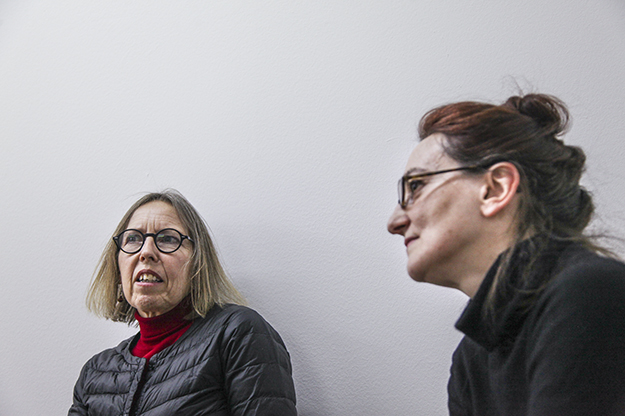 In Seoul there is an art center, and every year they do an exhibition with work from both international and local artists about the zone. They produce works of art, to reflect and to think about this problem.
Sometimes artists can contribute to thinking differently, and raising questions. It can be political, social, or historical, but in a different way that can help people to talk about this topic.
Can you tell us some technical information? How long is the exhibition going to be open, how can visitors perceive it, and what should they expect here?
JC: There are two ways to see the film, in 2-D, and in 3-D with the goggles. There is also a room dedicated to documentation, which is all paper and an explanation about the DMZ,  and notes from the soldier she met.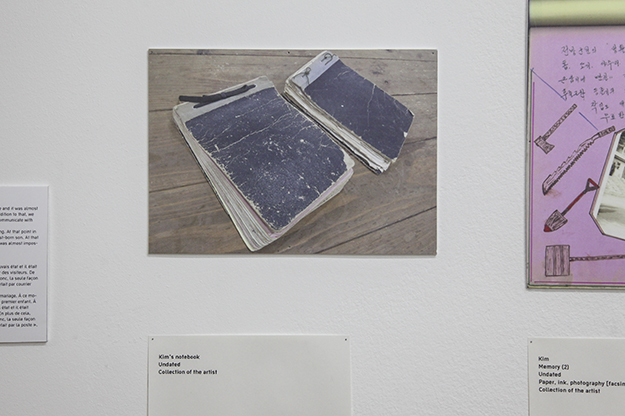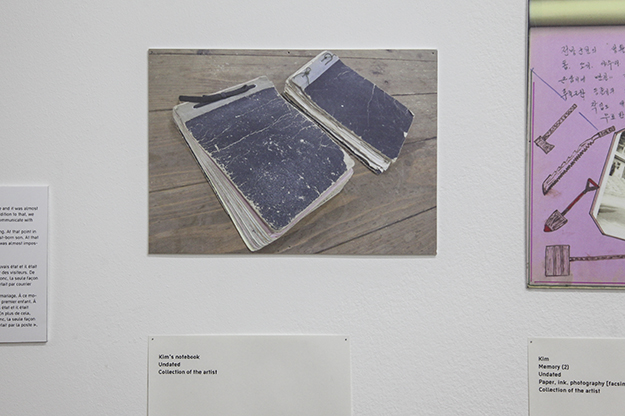 Sadly, Kwon couldn't come because she is travelling abroad. She is between New York and Seoul, working on a new project. Each time she does a video like this it takes two years of work, because each video takes so much time to draw and to construct, because it is all done by her.
I read that one of your specialities as curators, is working with emerging artists. Since you are here, have you thought of exhibiting the work of any Kosovar artists?
OB: Actually we came here to meet with local artists as well. We had two meetings this afternoon, and tomorrow we have four meetings with different artists from Kosovo. It is a way of seeing works, seeing people, and talking and maybe thinking if we can invite or propose an idea to someone.