At 5pm each weekday, employees of the Municipality of Ferizaj file out of the building to head home. However, while the working day has come to an end, the building's doors remain open.
For almost one month the Municipality's building has been a round the clock home to a number of uninvited guests, as former employees of the town's Steel Tube Factory have set up camp inside. The protesters — who until recently spent a 640-day vigil outside the government building in Prishtina's Skanderbeg Square — make themselves comfortable by watching a small TV or playing cards and chess, while others take a nap in the cosy chairs of the local Assembly chamber.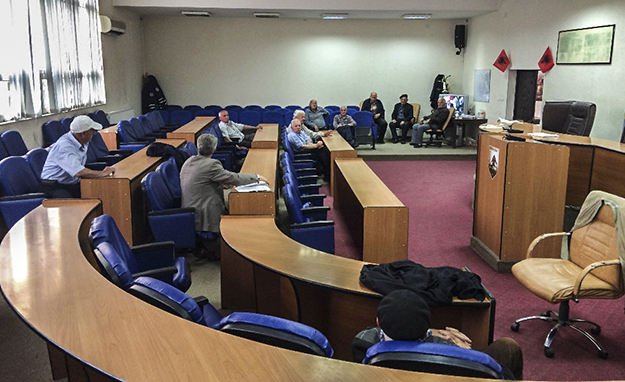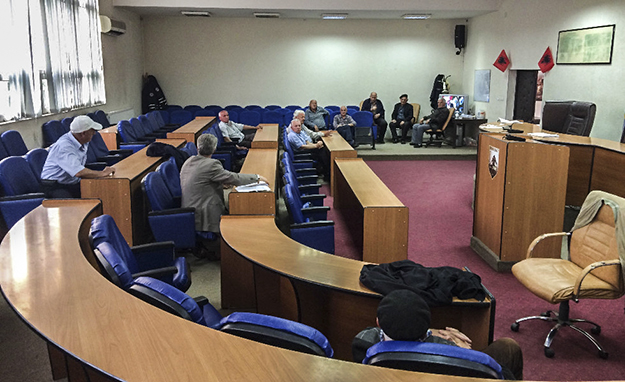 The protesters, all aged over 50, with the eldest being 84, have been "occupying" the chamber since May 11, taking shifts of more than a dozen people at a time to share the load. Their aim is to show their anger that a 2010 Constitutional Court verdict has not been implemented by Kosovo's government. Ruling number KI 08/09 granted over 900 former employees of the factory the right to receive more than 30 million euros worth of compensation, for the period between 1990 and 1999 when they had been forcibly removed from their jobs by Slobodan Milosevic's regime.
The Steel Tube Factory was privatized alongside many other former state-assets following the war, and in 2007 the Kosovo Trust Agency sold it for more than 3 million euros. Not only did more than 900 workers lose their jobs, but it also threw the process of awarding compensation for the 1990s dismissals — which had already been granted to the workers by Ferizaj's local court in 2002 before the Constitutional Court reaffirmed the decision — into confusion.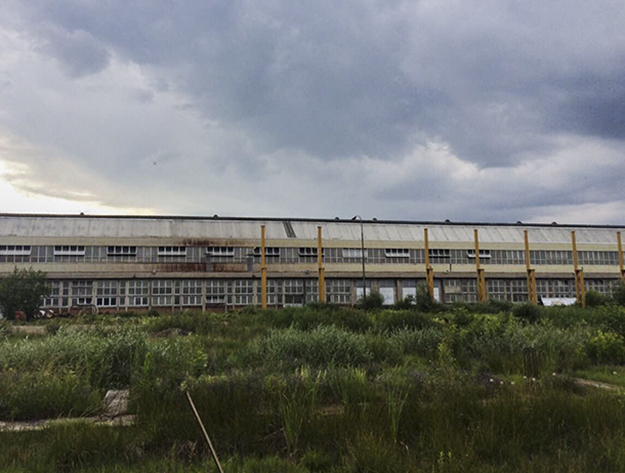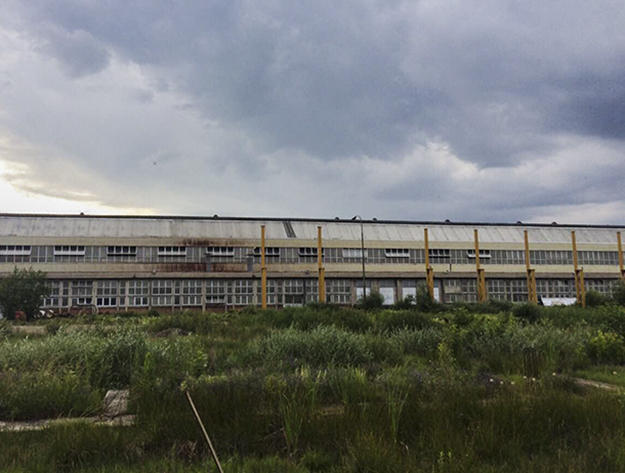 "Our demand is first of all a constitutional and a human rights demand," says Fatmir Hasani, a member of the Steel Tube Factory trade union. "We are only asking the government to respect the verdict of the Constitutional Court."
Having initially taken to the streets of Prishtina back in May 2014, their domed white tent was dismantled on February 26, the day of Hashim Thaci's election as president, as police indiscriminately cleared a protest camp that had been established by opposition parties.
Now back in their home city, the logistics of their protest are at least a little simpler. Not only are the indoor conditions more comfortable than being open to the elements (and occasional tear gas) in central Prishtina, but they are also closer to their loved ones. "Our families are bringing us food and we have a chance to change shifts," explains Hasani, showing a list of more than 40 protesters who have already taken part in the protest so far that day. "A former colleague of ours now living in Canada, has sent money to pay for our food."
Return to Ferizaj
The change of location also has a symbolic motive. Protesters want to exert pressure on Mayor of Ferizaj, Muharrem Sfarqa, one of those who pledged to help resolve the longstanding issue, during his 2014 election campaign. They believe that by influencing Sfarqa, he will in turn put pressure on his close LDK party colleague, current Prime Minister, Isa Mustafa, who also pledged to resolve the compensation issue during his election campaign. "Now Mr. Mustafa won't even accept us in a meeting," says Hasani.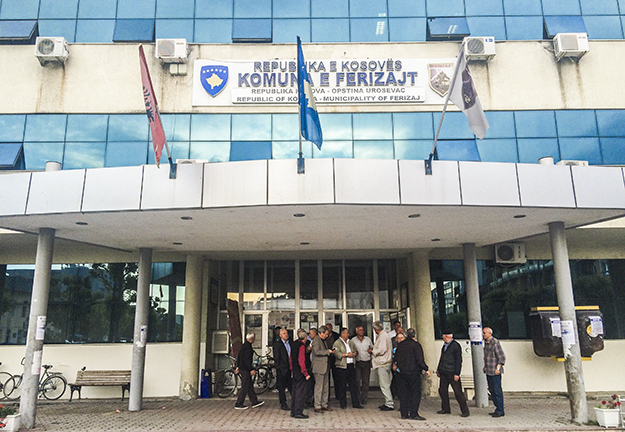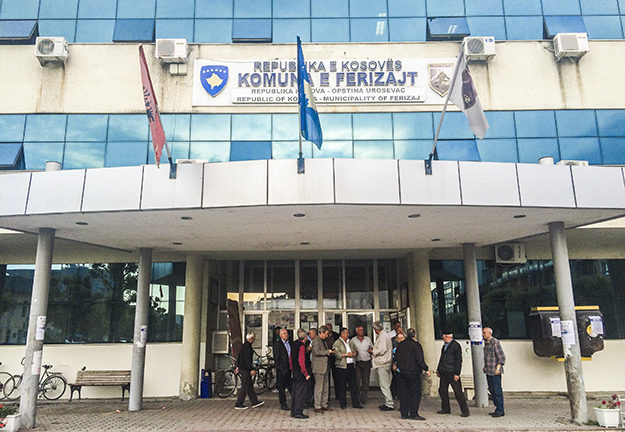 After Mustafa became prime minister, he has been reiterating that the lack of compensation is due to a lack of financial resource and he has given a clear message that the issue of providing compensation is not up for discussion; Mustafa has claimed that paying it could open a "Pandora's box" for employees of other enterprises, who were also expelled from their jobs between 1989 and 1999.
Hasani argues that this is an "absurd claim" by the prime minister. "He promised during the elections that the source for financing existed, and now what has happened is that Mustafa has changed his mind," says Hasani, angrily.
In the daytime, with the Municipality building buzzing with workers, service users and protesters, Ferizaj's mayor tells K2.0 that he "understands" the demands of the protesters but "usurping" Ferizaj's Assembly is not a solution. "The [former factory] employees are well aware of the fact that neither me as mayor, nor the municipality, is responsible for fulfilling their demands," says Sfarqa.
Sfarqa suggested that he is in close contact with both the trade union and the prime minister, with whom he has raised the concerns of the protesters. He also says that he is a supporter of their cause and would like the money to be delivered to the former employees. "Who wouldn't want 30 million euros to come to our city?" he says. "This would increase investments, strengthen the city's economy. But the place to address this demand is not here but Prishtina."
No end in sight
What happens next is unclear. The protesters have already demonstrated their resolve by camping out in the capital for almost two years, only leaving when forced to by the police. Ferizaj's mayor insists that with the local Assembly still able to function in alternative rooms, that is not an option that he will be pursuing. "Absolutely I exclude the use of force to remove them from the Municipality building," he says.
Yesterday (Thursday, June 9) the trade union delivered a letter to all deputies from Ferizaj, calling on them to boycott the Assembly of Kosovo, until the prime minister agrees to meet to try to find a solution to their problem. The protesters are unhappy with what they see as a lack of support from deputies from Ferizaj, who they say have failed to raise their voices enough for their cause. It's a point echoed by Sfarqa, who insist that deputies should transcend their political beliefs and be more unified in representing the people of Ferizaj at Kosovo's Assembly.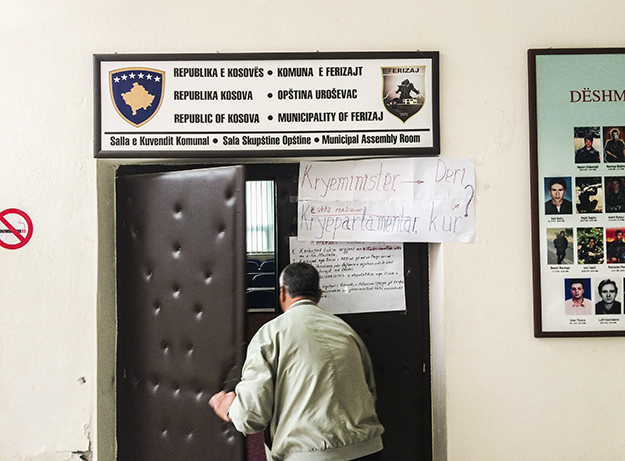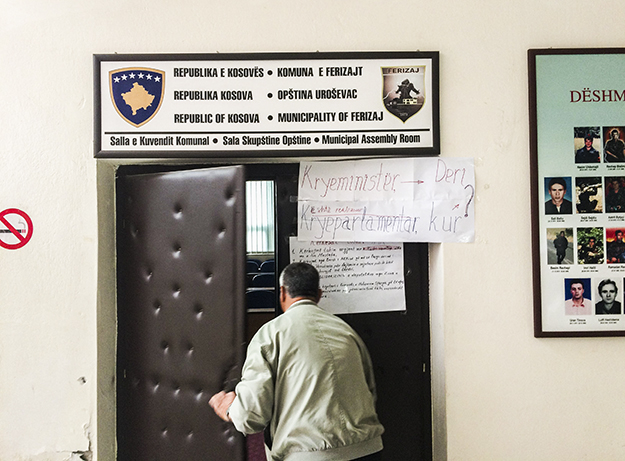 Hasani says that the former workers will continue with their protests and may radicalize their methods if that is what it takes to get the compensation that they are entitled to. "The Students' Union from Ferizaj and civil society have asked to call popular protests and we are considering taking to the streets as well as other forms of pressure," he says.
However even if the protesters eventually win their compensation, for many of Hasani's former colleagues, it is already too late. Since the long running saga began, he says that hundreds of former factory employees have passed away. "Over 350 out of 912 employees have already died," he says. "We are all dying, and there is no justice at all for us."K