According to the Volcano Discovery network, over the last 30 days, Croatia was shaken by at least 500 earthquakes, leaving at least seven people dead, dozens were injured, and thousands had to leave their homes. The strongest one — measuring at a 6.4 magnitude — struck the area around Petrinja, central Croatia, on December 29. It was the strongest earthquake in the region in the last 140 years, and was felt all over the Balkans, Slovenia, Italy and parts of Austria. 
In the Petrinja area, according to the initial estimates, over 15,000 houses have been severely damaged, while over 3,000 were completely destroyed. 
This area was heavily affected by the war, and rebuilt in the late 90s. However, this earthquake revealed many issues related to the postwar reconstruction, and is uncovering many other issues that people in Croatia are faced with. At the same time, it awakens solidarity among people in this country, and the region. 
Emina Bužinkić, scholar and human rights activist, lives in Sisak with her family and her small baby boy. They had to leave their house at the end of December. They were among the lucky ones whose house is still standing and could be repaired. They returned after three weeks. 
This is Emina's diary she wrote on her Facebook over the last three weeks in their life, struggling to find shelter, but also finding signs of solidarity and love in these desperate times.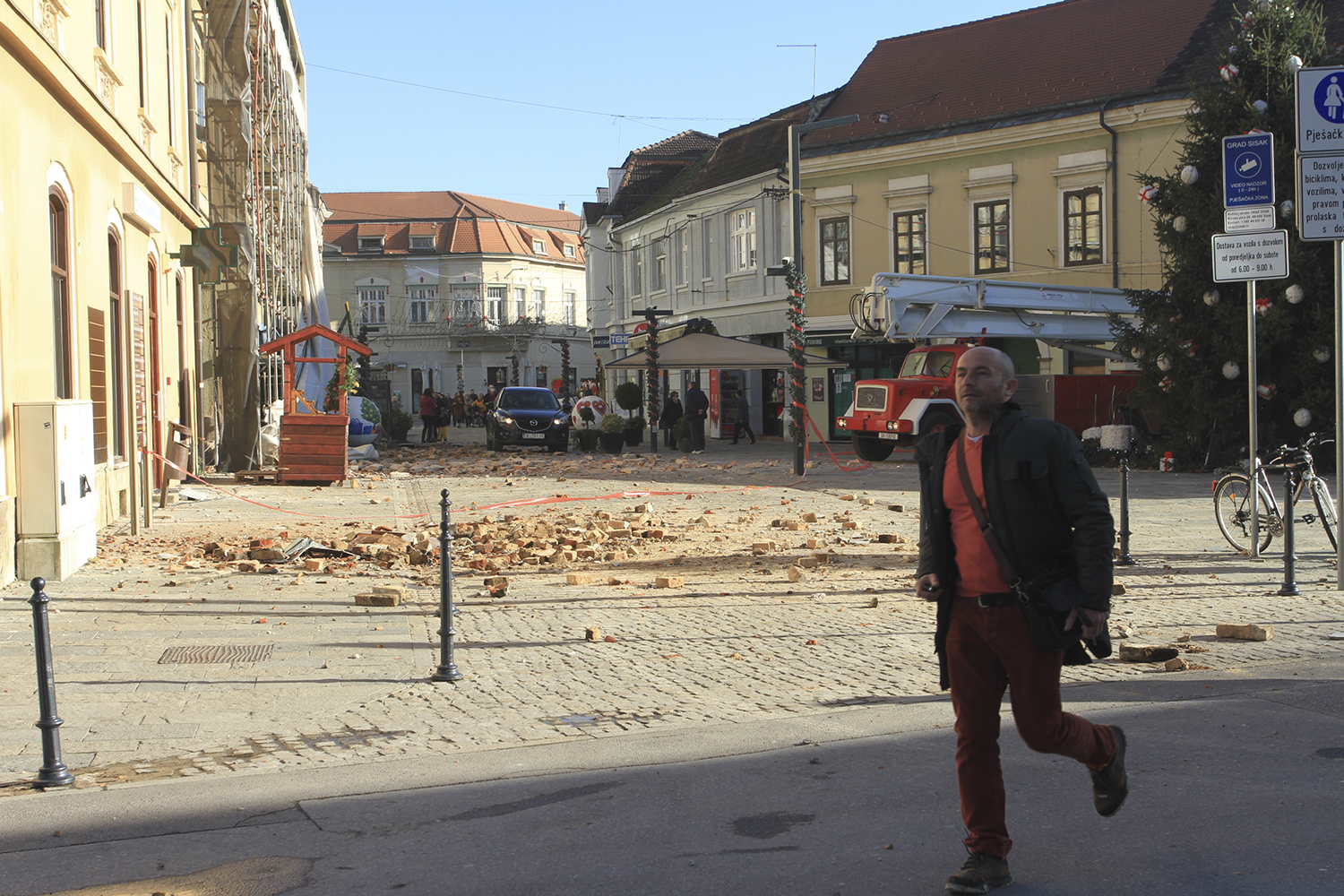 December 28
This morning, at 6:30 a.m., we felt a 5.5 magnitude strong earthquake. Less than nine minutes later, we felt another one. We are good. Thanks to everybody who is asking. 
We are standing in the field, in our pajamas. We feel the cold enter inside our bones. We are standing like that for only two or three hours, while I am thinking about all these people on the move who are sleeping like this, outside, for days. This morning we heard the news about one young migrant who died of cold in Bosnia. 
A brief update: It's energizing and humbling to receive your caring wishes. We're well, as much as one can be. Tremors have been going on throughout the whole day with many of them quieter than the three morning quakes. 
Our house is not damaged while many of our family's and friends' homes are damaged — from slightly to severe. Much solidarity work in repairing the damage is taking place, among the locals, in defiance and risk of pandemic. 
Power to the people, safety to the people!
Dear ones, thanks for checking in from different corners of this magnificent planet. We are safe for now and have been able to have some late morning cups of tea and breakfast. We're still trembling as all three earthquakes were quite strong while the epicenter was only a few kilometers from our house. Thanks for your healing thoughts and wishes. We're busy checking in with family and friends right now. 
December 29
Your words and acts of care, support and solidarity, friends and comrades, deeply echo and truly nourish. 
The past 40 hours were of an extreme emotional (dis) charge and would have been harder had I not felt your prayers, coming from all over the Balkans, Europe, the U.S., Africa, New Zealand … I have not had time to respond to hundreds of messages so I am sharing a few words here.
Many of you asked about the little one. He is well, playful, and carries true light. My parents are alright and the four of us are together. 
We have been checking the damage on our house and decided to evacuate tonight to a safer place. The house is not safe and will need to be fixed before we ever live there again. We were so lucky really because many of our friends and neighbors lost their homes.