On Friday Nov. 25, Prishtina's railway station hosted a public meeting to discuss how best to protect Kosovo's cultural heritage within the built environment. The event was part of the 'Turn Your Head' (#KtheKryte) campaign, which was launched in October by Cultural Heritage without Borders (CHWB), an independent NGO dedicated to rescuing and preserving cultural heritage.
"We aim to preserve buildings that have been neglected," said Sali Shoshi, the head of CHWB in Kosovo. "Through this campaign, we are aiming to raise awareness about some of these buildings, and restore them to a functionality appropriate for today's life and conditions."
Friday's discussion focussed on Kosovo's railway infrastructure, which at the discussion was said to have been neglected by the relevant institutions and organizations, including the Ministry of Culture, Youth and Sports, and Infrakos, a public company responsible for managing the infrastructure of Kosovo railways.
Kaltrina Thaci is a professional associate of CHWB. She told those assembled at the meeting that Kosovo's railway stations are of great importance, and represent the industrial heritage of Kosovo. "There are more than 30 train stations around Kosovo," she stated. "They present a precious collective memory, and as architecture they are highly valuable."
Kosovo's railway stations were all completed in 1936, and were designed by a French company (the construction of the railway lines themselves started even earlier, in around 1879). Their architecture was considered by the panelists as unique for Eastern Europe, with the exteriors and sometimes also the interiors often built from beautiful stone entirely sourced from Kosovo itself.
"Very few of Kosovo's railway stations function today in their original intended purpose," Thaci pointed out. "Though some of them were adapted and serve other functionalities." Thaci highlighted the example of 'Bahnhof,' the nightclub located in Prishtina's railway station, where the discussion was taking place. She revealed that other stations have been adapted as restaurants or places to live, but that others are in a very bad condition. "Some because of inappropriate maintenance, others because of the weather and so on," she stated.
Thaci said that the Ministry of Culture, Youth and Sports, has put the Drenas-Peja railway line (together with its accompanying stations and nine other related buildings) under the cultural heritage list, but as of now, no action has been taken to improve their current state.
Valdrin Kasumaj, a representative from Infrakos, said that the degradation of the railway and its stations began in 1995 due to a lack of investment and protection. This deterioration culminated with massive destruction during the war.
"Our financial capacities are very limited," said Kasumaj, explaining that with the financial support Infrakos receives from the government, it is impossible to do anything other than maintain the train lines. He said that Infrakos have come to realise that wherever the train does not regularly pass though, they lose the lines and accompanying structures to theft and the elements.
Kasumaj said that there is an eminent need to preserve this cultural heritage, but since Infrakos do not have the means to do so, he was making an appeal to the institutions, young people and organizations to support the protection of these monuments.
"What is especially painful is the intervention of citizens," said Kasumaj. "The damage they have done [to railway lines and railway stations] for their own personal interest and benefit was huge, and often more damaging to the railways financially than any profit they made out of it."
The debate also featured presentations on other cultural heritage buildings and monuments. Shpresa Shala, the director of the Department for Culture in the municipality of Vushtrri, talked about the castle in Vushtrri, an archaeological site that has recently been renovated. She said that the castle is a great success story; it has received 4,000 visitors this year alone and has hosted around 600 activities.
Another example was given by Albert Heta, the artistic director of Stacion Center for Contemporary Art. The building that belonged to the Boxing Club in Prishtina was in near collapse before Stacion took possession of it. Heta said that although the building was not institutionally listed as an artefact of cultural heritage, he believed it should have been, as the boxing club it formerly housed trained boxers who went on to be champions of Yugoslavia, and even of Europe.
Orgesa Arifi is the initiator of the Turn Your Head campaign and works at CHWB as a storyteller. She told the public two stories of successful transformations of railway infrastructure; the Promenade plantee in Paris and The High Line Park in New York City, two elevated parks built on the sites of obsolete railway lines. The High Line Park construction was started with the initiative of citizens, who were worried about all the deteriorating railway lines in the middle of a frequented area.
Two friends, Joshua David and Robert Hammond formed a private organisation as a small community group, intent on preserving and transforming the historic structure, which was to be demolished by the municipality. Rallying public support to their cause, they managed to preserve the structure and adapt it to an elevated park.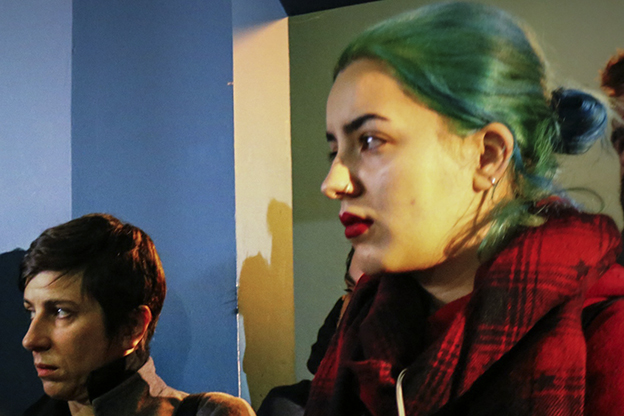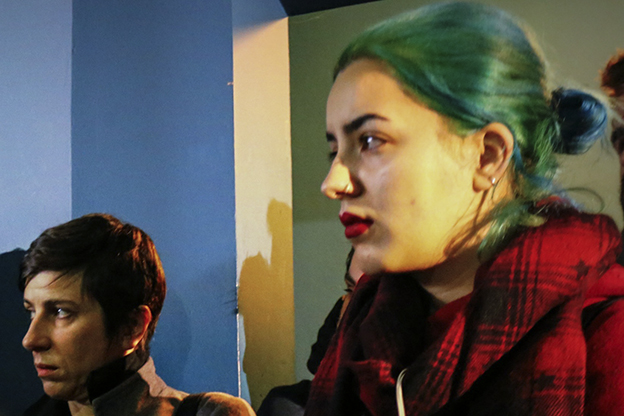 Arifi explained to the audience that the example of David and Hammond helped bring the Turn Your Head campaign to life. "It's not only us from Kosovo who are not listened to by institutions," she said. "In most places across the world citizens are not heeded by the institutions." She added that the campaign hoped to motivate and stimulate Kosovar citizens to do something by themselves.
"We have often seen that when people protest, they get results," said Arifi, explaining that the High Line park has now become a tourist attraction, a place where people simply go for lunch, where artists gather and work, is decorated with murals and frequented by musicians who perform peculiar pieces. However, it is also an important park for New Yorkers who that live in that area.
For Arifi, the line between Drenas and Peja could serve as another High Line, though not literally since it is not elevated. She insisted that such structures and buildings have to be adopted to the needs of the population, and examples of re-functionalization are all around us, the nearest being Belgrade's old town.
The debate afterwards was followed with comments and questions from the audience. A member of the collective behind Termokiss was present and argued from personal experience that whilst managing to raise citizens' awareness was good, it was not enough to stimulate them into taking action.
Other suggestions included creating a large group of NGOs and other independent organizations in order to help achieve common goals, such as changing the law which allows public properties to be given only to private businesses and the highest bidder.  
The debate came to a finale with the mutual conclusion that the pressure on institutions needs to be intensified when it comes to preserving and maintaining the cultural heritage present in Kosovo's built environment. The immediate step to be taken is to raise awareness about Kosovo's railway stations and to find solutions as soon as possible.K
Photos: Anyla Berisha.