Venera Mustafa is a bit different to the classical fashion designers we usually see. If you expect to see her new collections at a five star hotel, then you will be waiting in vain. She says that she is not pretentious; the ready-to-wear clothing she designs is presented in different locations around Prishtina, which is certainly not considered a five star city.
After finishing fashion studies at Ecole Superieure des Arts et Techniques de la Mode (ESMOD), a private fashion school in Paris, she returned to Prishtina to start her own line of clothing. She established her veneramustafa label in 2010, and from the beginning tried to make her line and her atelier warmer and more human, and to make people feel closer and more comfortable, contrary to the feelings of distance and superiority offered by luxurious fashion shops.

All of her collections have had a peculiar trademark attached, either in launching – her fashion shows "ë" and "Sonder" were more artistic performances than fashion parades – or in the making and design – she often collaborates with other artists, mixing their work with hers, such as the visual artist Bujar Sylejmani who painted directly onto the material.
Her new collection "Broka," for autumn/winter 2016-17, was launched last weekend in an unfinished indoor parking space, and for the first time it was recognisably a fashion parade, although still very different; not just the clothing, but even the setting and the parade format were clearly drenched in her trademark veneramustafa style.

"I like playing with the graphical parts, I like graphic design overall," says Mustafa, who before pursuing fashion studied sculpture at the University of Prishtina. "Structures, lines and architecture or minimalism I find very attractive, so I include them time after time."
In her "Broka" collection, she found the difference between black and white, "the bluntness of it," intriguing. The end result is the charming design of around 90 pieces of clothing in a beautiful merging of black, white and "Fifty Shades of Grey," featuring the drawings of Bujar Sylejmani and photo printing by Majlinda Hoxha.
Mustafa specialized in men's fashion in Paris so that she could design men's clothing as well as women's. So why are all her collections made for girls? She says that there is a lack of interest in fashion among men. Women attach more importance to their appearance than men — although she adds that, lately, that has started to change.

Mustafa thinks that people in Prishtina have a taste for dressing well, but still dress uniformly; we do not have an individual style but dress more or less similarly. In a small city like Prishtina, being different with strong individuality in clothing puts you in the spotlight, and not many are ready to face the pressure that comes with it. But why is it important to have an individual style?

"You express yourself with what you wear," says Mustafa, attaching importance to both detail and overall dress style. "You show the kind of personality you have; the way you tie a scarf shows a piece of your inner self, or what you wish to express with it."
It is fairly easy being a VIP in Kosovo; we have lots of TV stations and little content, meaning not much is happening. But being a true artist doing what you love – in this case fashion design – requires more than appearing on TV, according to Mustafa: it also requires hard work and passion. To all those who are taking their first steps in the fashion world, Mustafa strongly recommends striving for those values, rather than presenting five pieces of clothing on TV and claiming to be a fashion designer.
K2.0 spoke to Venera Mustafa for a more detailed glimpse into her latest work, and her points of view on different matters concerning the world of fashion.

K2.0: First let's talk about your newest collection, "Broka." What makes it different from your previous work?

Venera Mustafa: I am trying in each collection to bring something new; different kinds of collaborations with my colleagues – or more accurately my friends. Also experiments with textile, because designing clothing as a fashion designer for a certain time has its challenges but also its monotony, therefore you need to do something more refreshing.

For example in this collection there are prints and drawings made directly onto the textile, which is a more complicated process because the material has to be suitable. The drawings are made by Bujar Sylejmani and are hand painted directly onto the material, whereas the photography is by Majlinda Hoxha, with whom I have cooperated before, and in other fields as well.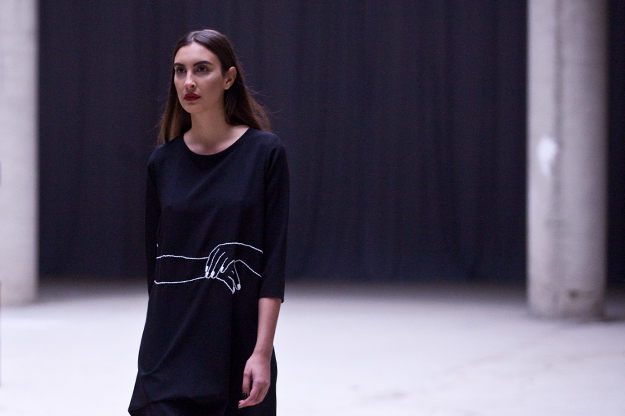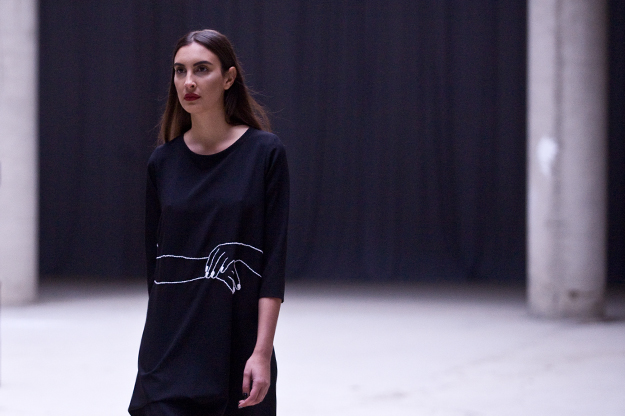 I often like to get out of the box of being a fashion designer, or the box of working only within the clothing industry, and to incorporate collaborations with artists, also adding some elements from our traditional clothing – although visually it's not that obvious, in each collection there has been something [traditional].

For instance, I very much like the lines of 'tirqe' [traditional Albanian clothing]: the difference between the white and black, the bluntness of it. I always liked to play with that, and this collection is like that – monochromatic. The colors that dominate are the white and black and grey. So maybe that is more interesting than the collaborations I have had before.

Tell us about your other collaborations with artists, maybe those that you hold close to your heart?

I was in the faculty [of sculpture] with all of them, with Jakup [Ferri], Bujar [Sylejmani], and many others. Not with Majlinda [Hoxha], but we are very close. I finished at the Faculty of Sculpture here [in Prishtina], and the friendships have remained since. Then when I got back from Paris, after finishing studying fashion, I started to work. Later I thought, 'Why not do a collaboration to conjoin these two fields [fashion and sculpture]?' I found it very interesting, because it enabled me to show some art through fashion. Not just to create a seasonal fashion collection, because we know that they are more or less daily outfits, but to find an element which sets it apart from other outfits, apart from the cutting, colors and volume.

So the collaborations came about very organically, like friends talking and proposing to do things a certain way, and deciding to try it. There's also this process which I like very much, the producing part; because maybe you make plans beforehand in vain, saying, 'I want this to be like this,' 'this will be done like this,' and 'this will look that,' but during the process the major parts will change, and as a result you could have a product or a work much more beautiful than previously thought or foreseen.
In your latest collection you have collaborated with two artists and friends of yours, Bujar Sylejmani and Majlinda Hoxha. What do they represent with their work?

It is more or less their world. With Majlinda we have more or less the same visual concept. So it's not that big a problem, we don't have many discrepancies in style or whatever. We are very similar. With Bujar it is different. He is more graphic. In fact, he says that he does not have a style of his own, so I did not interfere. There is no specific theme, it is completely Bujar's world, how he felt in those moments. For me it is very special, as there were no limitations in expression. He could draw however he pleased. Complete freedom of expression.