Albin Kurti has become prime minister of Kosovo for the second time after his new government was approved by the Assembly on Monday (March 22). 
He will head up a government with three deputy prime ministers and 15 ministries, almost a year to the day since his first administration was felled by a vote of no-confidence.
The joint government between Kurti's Vetëvendosje (VV), Vjosa Osmani's "GUXO" initiative and minority parties received 67 votes in favor, 30 against and no abstentions, from the 107 deputies present in the session.
Addressing the Assembly ahead of the vote, Kurti said that after facing many obstacles, what had seemed unattainable had become a reality. 
Eight of the ministers in the new cabinet are from VV, two from GUXO and three from minority parties, while two of the incoming ministers are not party affiliated. 
VV's minister of finance and transfers in its previous government, Besnik Bislimi, becomes first deputy prime minister for European integration, development and dialogue. GUXO's Donika Gërvalla will be both second deputy prime minister and minister of foreign affairs and diaspora, and Emilija Redžepi, from the New Democratic Party (NDS) — one of the parties representing the Bosniak community — becomes deputy prime minister for minority issues and human rights.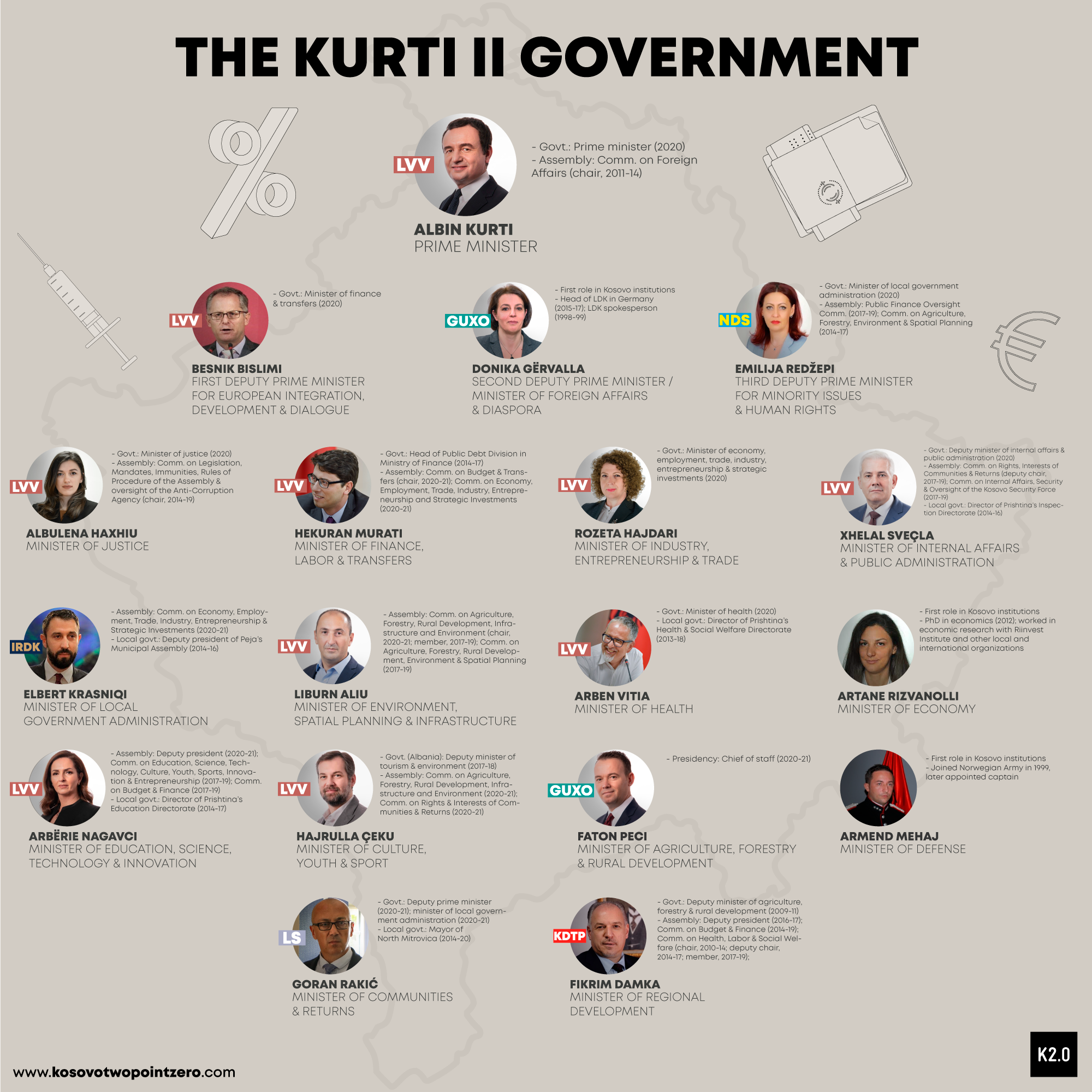 Setting out his plan for government, Kurti re-emphasized many of the topics that formed part of the campaign that swept VV's joint-list with Osmani to its landslide win in February's election, including addressing the pandemic which has escalated once again in recent weeks.
"With the minister of health we will initiate a plan to bring COVID-19 under control with measures that will reduce the number of new cases and will lead to the elimination of deaths," he said. "Within the year we aim to provide vaccines for 60% of the population, which will provide sufficient immunization to gradually begin the transition to normalcy."
He pledged to focus on wide-ranging reforms in the health sector, justice — with vetting of officials as a priority — education, economy and social welfare. 
Outlining a roadmap for the COVID period and recovery beyond, he said his government will prioritize the inclusion in the labor market of women, youth, members of minority communities and families on social protection, and will also work toward formalizing employment. He also promised to protect agricultural land and help farmers, because "if there is one thing we have learned from this pandemic, it is that agriculture is security and independence." 
Speaking of the dialogue process with Serbia, which has been the focus of much international attention, he said there can't be normalization of relations until Serbia recognizes the reality of Kosovo's independence, apologizes and pays reparations for war damages. He also said that his government will sue Serbia in the International Court of Justice and will seek accountability for the remaining missing persons.